<!- End <<< /opt/bitnami/wordpress/wp-content/themes/devformaspace/header.php -->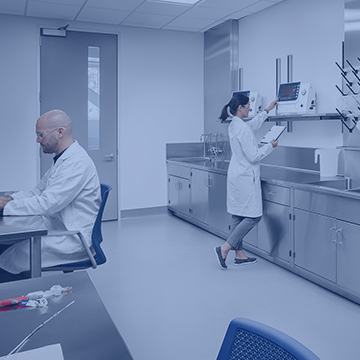 Wet Lab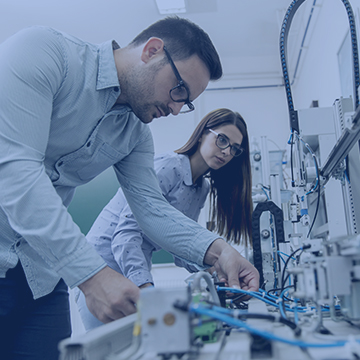 Tech Lab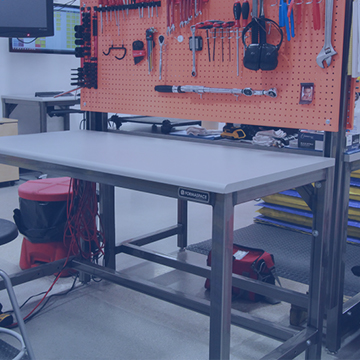 Industrial
Education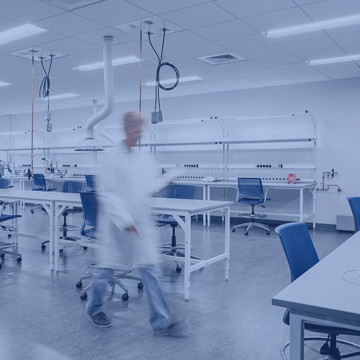 Healthcare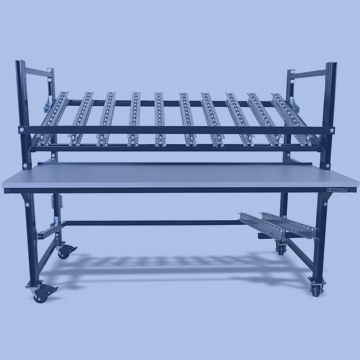 Custom Bench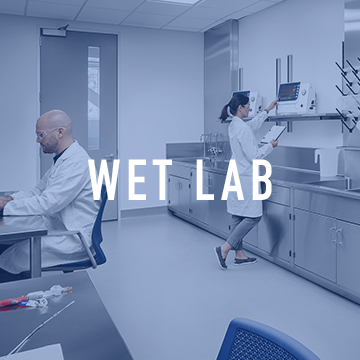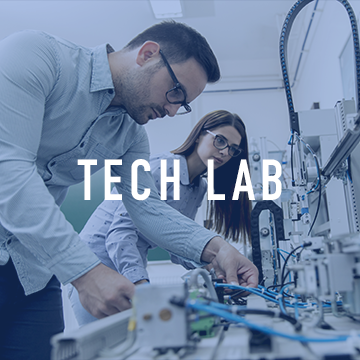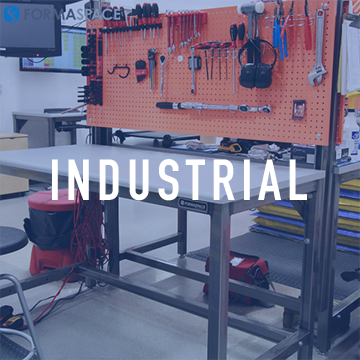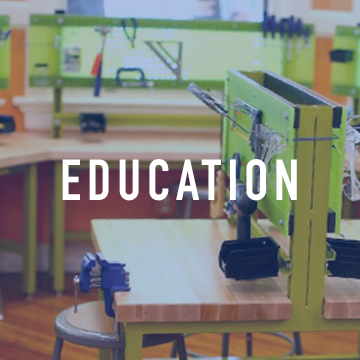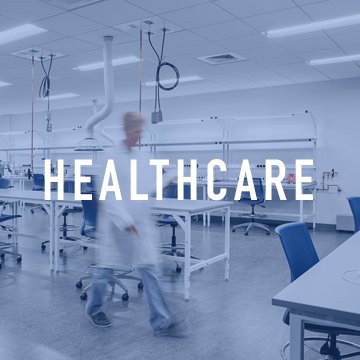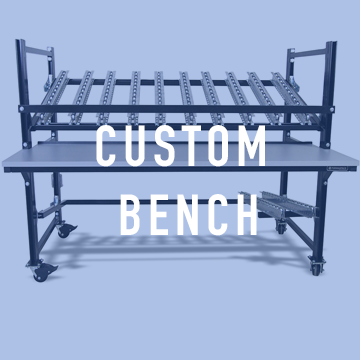 x

Basix™ Mobile Work Table

A unique 72" x 30" x 30" mobile workstation with heavy duty casters, a "Y" spreader for seating from either side of the table, a phenolic resin worksurface in black and a welded steel frame in grey. This functional, tough worktable is designed to be moved wherever it's needed and remain looking "as new" for years to come.

Categories

x

Workbench With Stainless Steel Top

For ease of maintenance and cleaning, few worksurface options are as good as stainless steel. This 72"W x 24"D x 30"H workbench features a stainless steel top on a fully welded frame with our standard leveling feet.

Categories

x

Large ESD Mobile Work Table

Need ESD resistance in more places than just one? This 72" x 36" x 30" mobile workstation with ESD laminate worksurface, casters and full-depth lower shelf in an all welded steel frame with black powder coated finish can go where you need it to.

Categories

x

Assembly Workstations with Integrated Conveyor System

Need a material handling, assembly or packing line customized for your space? This rendering features Benchmarx and Basix workbenches with custom worksurfaces (some containing transfer balls in a partial installation), integrated with a conveyor line. Some workbenches are configured with upper shelf, over head light, 7-flex monitor arm, bin rail with bins, lower half-depth shelf and 1 x 6" drawer.

Categories

x

Height Adjustable Large Work Table With Anti-vibration Casters

Need a lift? This 72" X 36" X 30" electronically controlled hydraulic height adjustable work table with anti-vibration leveling feet and a chemical resistant phenolic resin countertop on a welded steel frame with a "Y" stretcher allows you to sit or stand depending on your workflow.

Categories

x

The Discovery Lab in Tulsa

Categories

x

Modular Phenolic Workbenches with Upper Cabinetry

Formaspace built this lab with a combination of mobile and fixed workbenches, as well as 4-shelf storage units. Select benches have extra support in the frame to carry larger weight and upper storage units. 6" drawers, shelving, and monitor mounts can be seen on various workbenches. Contact our design consultants to start your custom lab furniture.

Categories

x

Mobile Phenolic Benches for Higher Education Lab

Formaspace can help build your custom desks for classrooms with phenolic resin tops and Y-frame spreaders with casters for mobility. Contact your design consultant for more information.

Categories

x

Modular L-Shaped Laboratory Stations

Custom L-shaped modular laboratory workbenches designed for a healthcare facility. The workbenches are built on white powder coated frame and HPL countertops.

Categories

x

Long Stand-up Basix Workbench

Modified Basix workbench designed for durability with an aesthetic touch for office spaces. It is 10 ft wide and 42" tall, perfect fit for lounge areas or facilities that accommodate the stand-up operation. Contact Formaspace's design consultants for more info.

Categories

x

Basix™ with 2.5" Thick Black Onyx Epoxy Top

This sample processing Basix™ has a steel gray pearlescent frame, anti-vibration levelers, and 2.5" thick black onyx epoxy top.

Categories

x

Red Mobile Tool Bench for Tire Supplier

Basix™ tool bench with a solid maple top, red powder coated frame, and a lower spreader that supports the two 5 drawer locking metal tool units powder coated with a black finish. The power strip is located in a custom position on the front right leg facing forward. The bench also features a mounting rail for pneumatic connections.

Categories

x

Basix™ for Multinational Technology Company

This Basix™ workbench was manufactured for a tech giant headquartered on the west coast with a solid maple top, traffic blue powder coated frame, and a lower gray melamine half depth shelf.

x

Wet Lab with Basix™ and Mobile Carts

Mobile carts sit neatly under Basix™ workbenches for easy storage.

x

Wet Lab for Medical Device Provider

This equipment testing room features both Basix™ and Benchmarx™ products with gloss white frames, power strips, gray epoxy tops, and snorkels.

Categories

x

11" High Modified Basix™

Small 11" Basix™ with white laminate top and custom frame color.

Categories

x

Basix™ for Aeronautics Research Center in Virginia

Basix™ with a light neutral frame, solid maple top, and casters were manufactured for a large aerospace research center located in Hampton, Virginia.

x

Long Workbench for an Aerospace Research Agency

A group of Basix™ workbenches with light neutral frames and black phenolic tops were manufactured for a research center for an aerospace research agency.

x

Anti-Vibration Microscope Table

Basix™ modified with a microscope cut out, light gray frame, lower half depth shelf, and anti-vibration feet.

Categories

x

Blue Basix™ with Keyboard Pullout

Designed for data entry tasks, this Basix™ workbench features a blue frame, 2 single unit black laminate drawers on the left and right side, keyboard tray, and gray laminate top.

Categories

x

Lab Training Tables

This training lab features two different Formaspace workbenches. The Basix™ workbench to the right has a height adjustable leg kit, custom gray frame, and gray epoxy top. The Basix™ workbenches to the left have ESD gray work surfaces, power strips mounted above the surface, and manual height adjustable crank. Lab also features white laboratory snorkels.

Categories

x

Workbenches for Titration Lab

Lab features gray epoxy Basix™ workbenches with right hanging steel cabinets and drawers, 7 flex monitor mounts, manual crank hydraulics, power strips, CPU supports, wire basket cable management systems, and custom cut outs with black HDPE inserts.

Categories

x

Sink for Contact Lens Company

Our client, a specialty contact lens company, wanted a workbench with a blue frame, stainless steel top and sink, gray cabinet, and lab mixing swivel faucet and eyewash.

Categories

x

Basix™ with Sapphire Blue Frame

This 96" x 24" Basix™ workbench features a black phenolic top, sapphire blue frame, left locking steel cabinets, and casters.
<!- Start << <!- End <<< /opt/bitnami/wordpress/wp-content/themes/devformaspace/footer.php -->