<!- End <<< /opt/bitnami/wordpress/wp-content/themes/devformaspace/header.php -->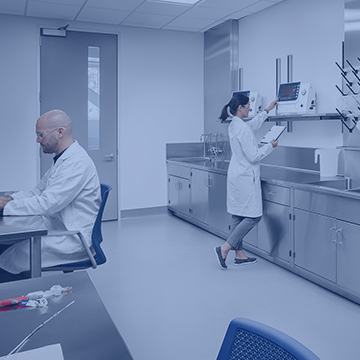 Wet Lab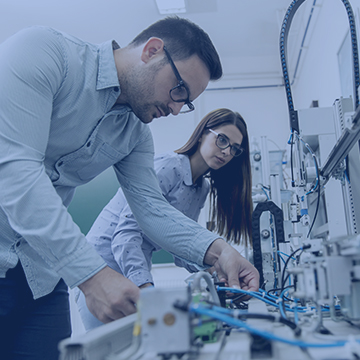 Tech Lab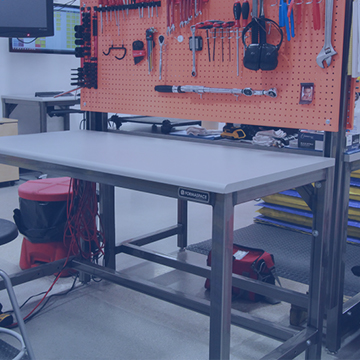 Industrial
Education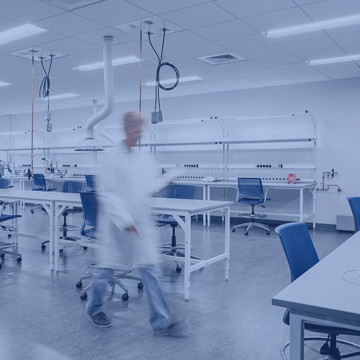 Healthcare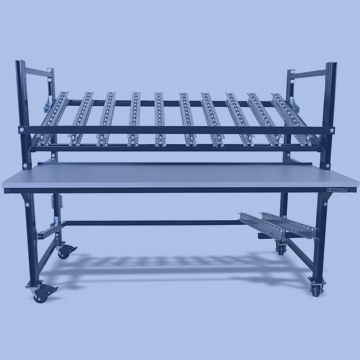 Custom Bench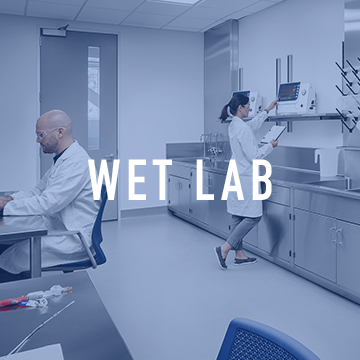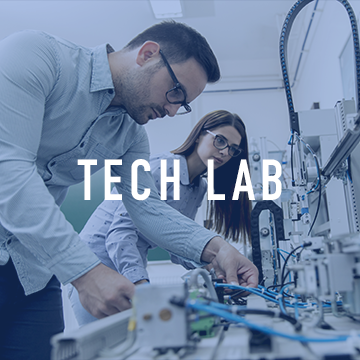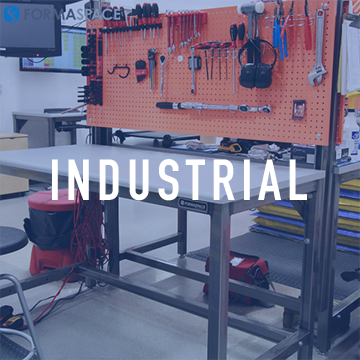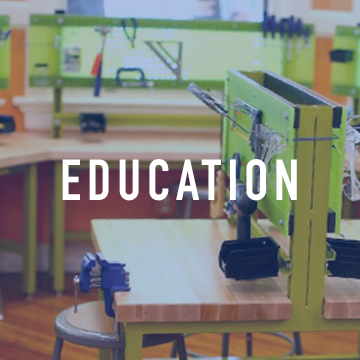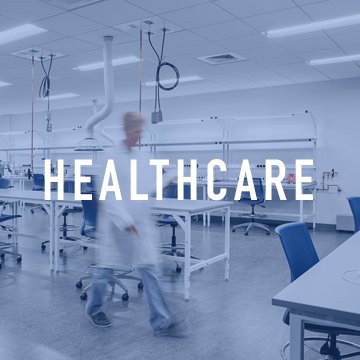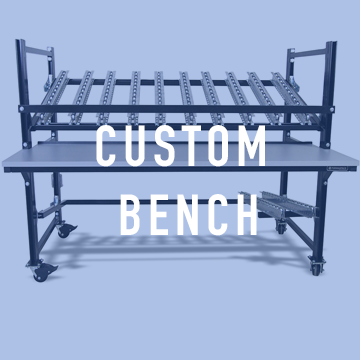 x

Specimen Testing Workbench With Sink

This exemplary lab bench is intended to put everything necessary for specimen testing within easy reach. The counter dimensions are 60" x 30" x 36" and the workstation offers ample storage cabinets and cubbies, upper shelving with a pencil lip plus an epoxy sink with faucet. Electrical outlets are integrated above the easy to maintain chemical resistant phenolic resin worksurface.

Categories

x

Anti-Vibration Custom Microscope Table

A custom 48" x 30" x 30" dedicated microscope table with antivibration levelers, surface grommet, observation cutout and half-depth lower shelf in an all welded steel frame with grey powder coat. This purpose built unit can be further customized depending on your needs.

Categories

x

Basix™ Mobile Work Table

A unique 72" x 30" x 30" mobile workstation with heavy duty casters, a "Y" spreader for seating from either side of the table, a phenolic resin worksurface in black and a welded steel frame in grey. This functional, tough worktable is designed to be moved wherever it's needed and remain looking "as new" for years to come.

Categories

x

Workbench With Stainless Steel Top

For ease of maintenance and cleaning, few worksurface options are as good as stainless steel. This 72"W x 24"D x 30"H workbench features a stainless steel top on a fully welded frame with our standard leveling feet.

Categories

x

Back To Back Workbenches For Lab

When space is at a premium, back to back workbenches make the most of available real estate in your lab. These lab workstations feature two tiers of laminate upper lipped shelving and integrated electrical outlets above the laminate worksurface.

Categories

x

Height Adjustable Large Work Table With Anti-vibration Casters

Need a lift? This 72" X 36" X 30" electronically controlled hydraulic height adjustable work table with anti-vibration leveling feet and a chemical resistant phenolic resin countertop on a welded steel frame with a "Y" stretcher allows you to sit or stand depending on your workflow.

Categories

x

Smartlabs Modular Back-to-back Workbenches & Fumehoods

This highly functional, well designed lab installation features modular back to back workbenches in white with black laminate tops, two tiers of upper shelving and dual lower file drawers with some stations including integrated electrical outlets. A fume hood on custom lower cabinetry can be seen in the background.

Categories

x

Hospital Laboratory Modular Workbenches in OK

This El Reno, Oklahoma hospital laboratory features workbenches with laminate tops and backsplashes, frame integrated electric above the work surface, upper frame mounted cabinetry for ultimate mobility and numerous lower drawer and cabinet configurations as well as a custom sink. Heavy duty casters allow the units to be moved and placed in any number of side by side configurations wherever needed.

Categories

x

Casework with Stainless Steel Countertop & Reagent Shelves

Formaspace can provide processing lab casework with stainless steel tops, electrical outlets, and integrated lower storage. Contact your design consultant for more info.

Categories

x

Gray Epoxy Top Casework with White Cabinetry

Formaspace can build your custom casework to fit any corner of your lab. This specific casework project built with gray epoxy tops, lower storage, and cabinet combo. Contact Formaspace with the specs of your lab furniture need today.

Categories

x

Height Adjustable Phenolic Laboratory Workbench

Computer desk with manual hand cranks, phenolic resin tops, lighting, lower storage, and casters for easy mobility. Contact your Formaspace design consultant for more info.

Categories

x

Tall Stainless Steel Cabinets

Formaspace provides stainless steel cabinets for restaurants, cleanrooms, laboratories, and chemical-controlled environments. Contact our design consultants for more info.

Categories

x

Mobile Large Benchmarx with Lower Cabinetry

This large chemical resistant Benchmarx workbench custom-designed for a vacuum products manufacturing company. It is equipped with shelving, lower storage (8 drawers and a large cabinet), and epoxy countertop to support the operation beside a LAB Line high-performance UHV platforms for magnetron sputtering deposition. Contact our design consultants for a custom workbench to complete your unique operation.

Categories

x

Modular Phenolic Workbenches with Upper Cabinetry

Formaspace built this lab with a combination of mobile and fixed workbenches, as well as 4-shelf storage units. Select benches have extra support in the frame to carry larger weight and upper storage units. 6" drawers, shelving, and monitor mounts can be seen on various workbenches. Contact our design consultants to start your custom lab furniture.

Categories

x

Lab Service Workbench with Epoxy Top & Sink

Custom lab casework with epoxy sink and a lower cabinet, intergrated with safety eyewashes and lab fixtures. Contact Formaspace's design consultants for more info.

Categories

x

Modular Workbenches with Upper Glass Shelves for Pharmaceuticals

Formaspace offers modular workbenches with upper glass shelves with chemical-resistant epoxy tops with an eyewash and sinks integrated inside the cabinet, and lower drawers. Contact our design consultants for more info.

Categories

x

Mobile Phenolic Benches for Higher Education Lab

Formaspace can help build your custom desks for classrooms with phenolic resin tops and Y-frame spreaders with casters for mobility. Contact your design consultant for more information.

Categories

x

Fume Hood & Acid Storage Casework Combo

The ductless fume hood with acid storage attached with a gray epoxy top sink for lab casework. Contact Formaspace design consultants for more info.

Categories

x

Modular L-Shaped Laboratory Stations

Custom L-shaped modular laboratory workbenches designed for a healthcare facility. The workbenches are built on white powder coated frame and HPL countertops.

Categories

x

Chemical Resistant Steel Casework with Upper & Lower Storage

This is a chemical resistant casework built with a steel upper and lower storages and black phenolic resin countertop. It also has an epoxy sink and a bench-top embedded fumehood.

Categories

x

Basix™ with 2.5" Thick Black Onyx Epoxy Top

This sample processing Basix™ has a steel gray pearlescent frame, anti-vibration levelers, and 2.5" thick black onyx epoxy top.

Categories

x

Casework and Fume Hood

This Lab features steel casework powder coated gloss white with gray epoxy tops and fume hood.

Categories

x

Benchmarx™ Wet Lab

This wet lab features our standard product, Benchmarx™, accessorized with monitor arms, overhead lights, upper shelf, and snorkel.

Categories

x

Wet Lab with Basix™ and Mobile Carts

Mobile carts sit neatly under Basix™ workbenches for easy storage.
<!- Start << <!- End <<< /opt/bitnami/wordpress/wp-content/themes/devformaspace/footer.php -->