Integrated Lab Equipment Benches
OEM Lab Equipment Benches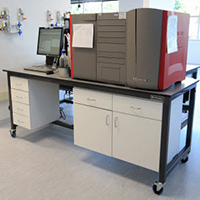 Integrate your equipment with a workbench built for the task at hand. Custom Formaspace benches supported the team who won the race to sequence the first human genome. Our benches are also integrated with robotic pickers in the World's largest online retailers'distribution center. Our workbenches are continually chosen by top organizations when quality, customization, and scalability are the top priority. Ask a Design Consultant about OEMing lab equipment benches today!
Mobile Lab Instrument Benches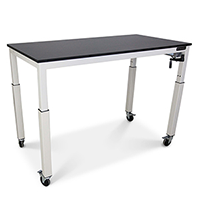 Our clients completed The Human Genome Project by sequencing the first strand of human DNA. Their secret was building a lab to help them win the race. Our lab furniture solutions helped them quickly maintenance critical lab equipment without disrupting workflow. We did this by adding mobility. The instrument was taken to maintenance technicians instead of technicians taking over the workspace. Sounds simple, but this innovation made the winning difference. Do you have an instrument with unique needs? Call our lab bench experts with a winning track record today!
Specialized Lab Instrumentation Products
Microscope Table
Formaspace Microscope Tables are designed for maximum user comfort and efficiency. Adding anti-vibration levelers, mobility and height adjustability are the most common customizations to assure an ergonomic workspace for lab techs. Don't just settle for any table for your critical projects! Contact us today to get a free quote and bench drawings.
FabWall™ by Formaspace
Formaspace is the first to manufacture customizable lab partition wall modules known as FabWalls™. Use them as modular island fixtures or as laboratory room partitions. Add shelving, storage, and removable demising panels to customize our FabWall™ to your specific lab requirements. 
Lab Equipment Integrated Casework
Fixed casework fulfills traditional lab requirements such as durability, continuous work surfaces, and storage. Fixed casework is floor mounted and capable of supporting the heavy load of large automation tools, DNA sequencers and fume hoods. Choose from a wide range of accessories, storage components, and work surface materials specific to your application and we'll create a built-in casework system that integrates with your lab equipment to fulfill your current lab needs. 
Fume Hoods
Protect researchers from released chemical gases and products from dust and particles with Formaspace Fume Hoods. We offer Laminar Flow or Ductless Fume Hoods that fit with your HVAC system. Contact your Design Consultant for available fume hoods and pair them with mobile Formaspace work benches to complete your lab project.
Lab Instrumentation Islands
Do you have instruments central to laboratory operations? Create a workflow that increases productivity by making your critical instruments easily accessible and central to technicians. Formaspace regularly builds islands for large equipment pieces that require specific furniture. Our Design Consultants will help you select the right workstation make up for chemical resistance, weight capacity, and durability. Contact us to get started!
Anti-Vibration Lab Tables
As an alternative to scale cut-out compartments, custom designed stand-alone anti-vibration tables are a sought-after option for lab furniture clients who are seeking a way to handle sensitive scaling operations. Considering sensitivity in mind, Formaspace offers anti-vibration and leveler foot options as well as height adjustability and mobility to fulfill the lab tech ergonomics.
Lab Instrument Bench Storage
Store lab supplies or disposal containers in cabinets mounted under or above the worksurface. Stay organized with easily accessible items in drawers. Add cubbies above the worksurface for additional storage space. Share your specifications with your dedicated Design Consultant and we'll create the storage solution for you!
Biosafety Cabinets
Keep your lab technicians safe while working with materials contaminated with pathogens under a biosafety cabinet from Formaspace. Tell your design consultant about your ventilation requirements and we'll outfit your lab with modular biosafety cabinets.
Lab Equipment Table Add-ons
Laboratory Chairs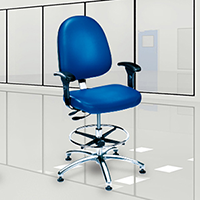 Give your employees ergonomic chairs that increase their level of productivity and comfort. We have a wide range of chair options to suit your laboratory seating requirements, and help you secure a FDA inspection approval. Inform your Design Consultant of your seating needs and we'll find the perfect solution to go with your lab equipment tables.
Lab Instrument Bench Accessories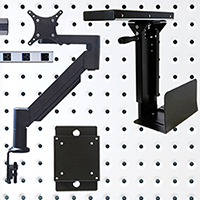 A well thought-out compliment of accessories allows you to build a lean, ergonomic workstation for your technicians to work quickly and efficiently. Consider adding anti-vibration levelers, CPU holders, monitors, power strips, overhead lights, etc.
Formaspace Client Reviews

"I recommend Formaspace because they are reliable, timely, and they keep promises."
- J. Garzon, Aviall, A Boeing Company

"Efficient, timely and perfect furniture for our lab! We love the flexibility to never-ending changes that occur in laboratory medicine."
- L. Davis, Mission Health Hospital

"The product is high quality, at a reasonable price and the customer service is excellent!"
- S. Satterfield, Nike, Inc.
Enter Specs in Under 2 Minutes
Build your own bench with your specs here.

It only takes 1 minute...we checked!