The coronavirus pandemic upended our lives throughout 2020, with many of us spending significantly more time at home. As a result, during this year of isolation, many of us turn to our "fur babies" for emotional companionship and stress reduction.
Indeed, the unexpected cameo appearances of cats and dogs walking into live video shots over the past year livened up many otherwise mundane Zoom conference calls or television news programs broadcast live from a reporter's bedroom.
Perhaps unsurprisingly – given the recent shortages of toilet paper, baking flour, and other household items – there were even spot shortages of cats and dogs available for adoption during 2020, with some perspective pet owners bidding up the price of purebred puppies and kittens to record heights. (FWIW, we recommend adopting from your local shelter if you can.)
Assessing the Risk of Covid with Pets in the Household
Whether you are a longtime pet owner or have recently adopted a Christmas puppy or a New Year kitten, you may be wondering about health and safety issues vis-à-vis pets and the Coronavirus.
Important questions to ask include:
Can I give Covid to my pet?
Can my pet get Covid?
Could my pet transmit Covid to me?
All these questions are based on very reasonable concerns – given that SARS-CoV-2 (as Covid-19 is formally known) is a disease of zoonotic origin (meaning the virus has crossed between species) that most likely originated in bats and from there possibly passed onto pangolins before transferring to humans.
Another reason for concern is we treat our pets like family; it's not uncommon for kids and adults alike to stroke a cat's fur as it sits in our lap, or to let a pet dog lick our face, or allow them to sleep in the family bed at night.
But the recent culling of millions of mink raised for the fur trade in Denmark (suspected of harboring a potentially dangerous new variant of Covid-19) is a wake-up call for us to revisit whether close contact with our pets is safe and how we can protect ourselves (and them!) from transferring the virus.
What We Know about Covid Transmission on Surfaces
During the spring of 2020, when coronavirus cases first began to surge, there was an understandably high level of anxiety about keeping all touchable surfaces clean to prevent transferring the virus from one person to another.
Since that time, we've come to understand that while the virus can live on surfaces for many hours (or even several days), transferring the virus via contaminated surfaces (known as fomite transmission) is generally less risky than breathing in aerosol droplets that are expelled from another person's respiratory tract – e.g. when they breathe, speak, sing, cough, or sneeze.
And scientists now believe that frequently washing or sanitizing your hands before eating (and training yourself to avoid touching your face with your hands) can reduce fomite transmission of the virus to a great degree.
But what about the respiratory aerosols expelled by people? In still air, these particles tend to fall to the floor (or to the ground if you're outside).
For most adults, virus particles on the floor aren't that risky – and you can change shoes or remove them before entering your home. But what about small pets, like poor Fido, who spend much of their time on the floor? Are they at greater risk?
The answer depends on the species of pet.
Can My Dog Get Covid?
As mentioned earlier, many of us kiss our pups, let them lick on us, brush and pet their fur, and often, we let them sleep in our beds.
So it's important to ask the question: can dogs get Covid?
Scientific research says yes – dogs can get Covid from Covid-positive owners – but so far, this seems to be an uncommon occurrence – or, more accurately speaking, there are very few documented cases to date.
In the first reported case, a Covid-positive Hong Kong resident had their Pomeranian dog tested (via an RT-PCR test), and the dog was found to have a Covid infection as well.
Subsequently, a second case emerged in Hong Kong where the pet owner was Covid-positive, and their dog, a German Shepherd, also subsequently tested positive with Covid. Despite the infection, the dog did not pass the virus to another dog sharing the same kennel, nor did it exhibit any Covid disease-related symptoms, such as respiratory distress.
Admittedly, this is a small sample, but scientists in Hong Kong believe this indicates that, while human-to-dog transmission is possible, there is no evidence that dogs can suffer from Covid symptoms themselves or pass the virus on to other dogs or humans.
Researchers in Spain disagree with these assumptions. They performed statistical analysis on over 2,000 individuals and found evidence that dogs and their owners could be at an increased risk of Covid transmission. Researchers found that having a dog in the household (and taking it for walks) was associated with up to 78% higher risk of contracting Coronavirus compared to households without a dog or dog walking activities
The reason for this marked discrepancy between households remains unclear. Researchers speculate that dogs may be contributing to viral spread due to unhygienic behaviors during walks in public areas, and they note "we should not rule out the possibility that the virus may be transmitted via fecal matter."  Meanwhile, a separate trio of researchers speculated that dogs, which share the same ACE-2 receptor mechanism that the virus latches onto as humans, may have helped spread the virus during the worst of the early outbreak in northern Italy.
More research is needed.
Until then, the resulting uncertainty poses a dilemma for dog owners. Walking a dog is good for exercise and helps improve mental well-being – for the dog and owner alike.
If fomite transmission is to blame for the statistical increase in positivity rates, then dog owners should take care to wear a mask when dog walking, stay 6 feet or more away from others, avoid areas where people and their pets have been congregating (such as cafes or dog parks), walk on surfaces that cut the lifespan of the virus short (such as concrete or wet grass), as well as avoiding you or your dog contacting other dog's fecal matter (while at the same time bagging up and safely disposing of your own pet's waste).
Good hygiene is important. Wash your hands after touching your dog. And if you or a family member becomes infected with Covid, take the same precautions to prevent your pet from getting infected as you would with any other family member.
One final piece of advice, especially for new dog owners: many diseases, such as Parvo, can be fatal to dogs, so take your pet to the vet for important vaccinations. Fortunately, many vets now offer curbside pickup of your animal to reduce the risk of viral transmission.
Can My Cat Get Covid?
What about cats and Covid?
Since March, there have been several documented cases of Covid-19 infections among pet domesticated house cats: in Hong Kong, the United States, and in several European countries (including Belgium, France, Germany), as well as in Russia.
Big cats are not immune from Covid-19 infection either. In April, a suspected Covid-19 infection in a female Malayan Tiger at the Bronx Zoo was confirmed via an RT-PCR test.
Researchers from the Chinese Academy of Agricultural Sciences at Harbin Veterinary Institute inoculated cats to assess their ability to transmit the virus. They determined that cats are more likely than dogs to transmit the virus to unexposed members of their species, and they are also susceptible to airborne transmission.
So if cats are more likely to get and transmit the disease to other cats, are they are a greater risk to their human households?
Statistically speaking, the answer appears to be no, at least according to the same Spanish researchers mentioned above that found dog ownership/dog walking was associated with up to 78% more Covid infections. Instead, the researchers found no statistically significant evidence that cat ownership had any effect on household Coronavirus infection rates.
Why is this? Is it because most pet cats stay indoors? But what about indoor-outdoor cats? Are they vulnerable to infection? These are just some of the questions that need to be evaluated further.
In any case, cat owners should follow proper hygiene procedures. Wash or sanitize your hands after touching your pet and avoid touching your face. Consider keeping your cat indoors at all times, making it part of your family isolation "bubble."
Finally, use care when cleaning cat boxes to avoid contact with feces or ingesting dust from cat litter. This is a prudent thing to do anyway, as it helps prevent transmission of the Toxoplasma gondii parasites that cause Toxoplasmosis. This is especially important advice for those with compromised immune systems or pregnant women who could transmit Toxoplasmosis to their fetus.
What about Covid Infections in Other Pet Species?
While dogs and cats are the most common household pets, they are not the only ones.
We take a look at each of the most popular pets (and farm animals treated as pets) to highlight their potential risk for transmitting the Covid-19 virus.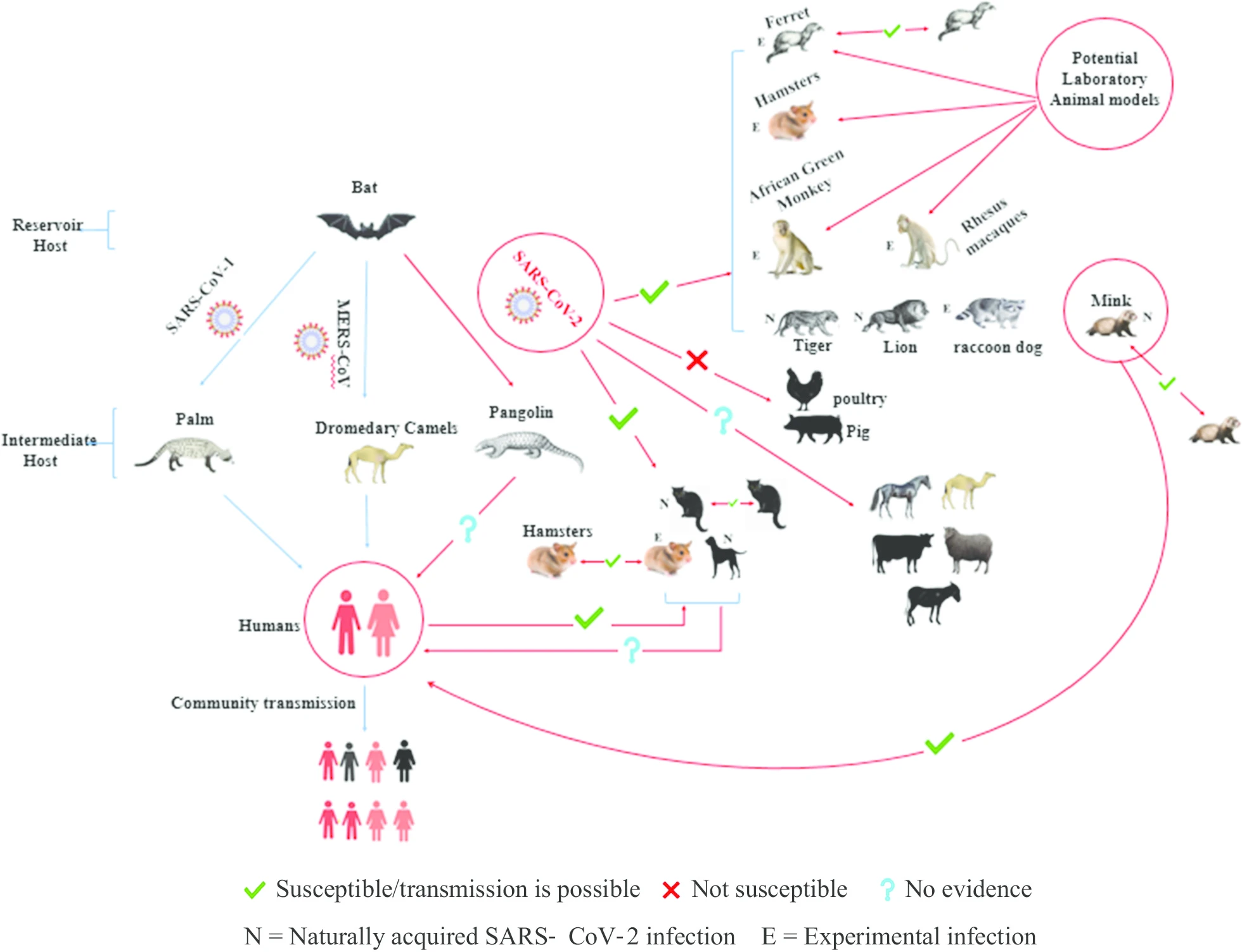 Ferrets, Minks and Related Mammals
Ferrets are an increasingly popular household pet, but owners should be aware of several potential risks regarding Covid-19 transmission.
The first reason for concern is that, like cats, the ACE 2 receptors in ferrets appear to lend themselves to binding to the spike protein of the SARS-CoV-2 virus.
The second concern is that ferrets have been shown (in laboratory settings) to be able to transmit the Covid virus to other ferrets, and, if infected, ferrets will show signs of distress from Covid (unlike dogs or cats).
Third, ferrets are commonly used by scientists as an animal model for studying other respiratory diseases, and ferrets that have been purposefully exposed to the new Covid-19 virus in the lab indicate that the virus is capable of replicating in ferret lungs.
The fourth area of concern is the situation concerning Covid-infected minks – a species closely related to ferrets in the Mustelidae family, which also includes badgers, otters, weasels, and wolverines.
Earlier this year, it was determined that farm-raised minks raised in Denmark for the fur trade tested positive for what appears to be a new dangerous mutation variant of the Covid-19 virus. Once farm workers were suspected of being infected, the entire population of minks was ordered to be culled by the Danish government. (As an aside, skeptics argue that the decaying carcasses of the millions of culled minks have possibly created a greater risk of infection than posed by the minks when there were alive.)
The bottom line? Ferret owners should be on the lookout for a cough, or other signs of respiratory infections in their pets as these could be a sign of an active Covid infection. Follow good hygiene practices and wash your hands and face after touching your pets. Keep your pet isolated from any family members who come down with Covid.
Hamsters, Mice, and Pet Rats
Hamsters have proven to be very effective animal research models during previous coronavirus outbreaks of SARS  (SARS-CoV) and MERS (MERS-CoV). Similar to ferrets, Golden Syrian hamsters are a well-suited animal model for studying the current coronavirus outbreak (SARS-CoV-2), as these hamsters present clear signs of disease when infected (such as apparent weight loss), and they are very efficient at replicating the virus in their upper and lower respiratory systems.
Unlike hamsters, however, mice and rats don't seem to be as easily infected with Covid-19 (or perhaps not at all outside of a laboratory); this may be due to a variation in their ACE 2 receptors.
Hamster owners should be cautious as these small pet rodents can become infected with the Covid-19 virus and spread it to other hamsters. Their ability to spread it back to humans remains unclear, but it's probably a good idea to assume that it's possible.
Owners of all pet rodents should follow good hygiene practices, such as washing their hands and face after touching their pets or cleaning out their cages. Keep in mind that Covid is not the only reason to avoid close contact with mice and other small rodents (such as pet rats), as they can transmit other dangerous diseases, including Hantavirus and Salmonella, by touching or breathing fumes and dust created by rodent fur, urine, bedding, or feces.
Rabbits and Guinea Pigs
There is a good reason for concern regarding Covid-19 and pet rabbits and guinea pigs. Past laboratory studies indicate that earlier coronaviruses (e.g. ones known before the emergence of Covid-19) can cause salivary, enteric, and respiratory infections in lab rabbits and guinea pigs.
An August 2020 pre-print study from scientists in The Netherlands found that rabbits in the laboratory that were inoculated with Covid-19 excreted infections excrete infectious virus from the nose and throat.
More study is needed to verify if this means that rabbits (including wild rabbits, pet rabbits, and farmed rabbits) could serve as a virus reservoir and transmit the disease back to humans.
However, given the research available to date, it's prudent for rabbit owners (and guinea pig owners as well) to assume their pets could get and transmit Covid-19. Therefore, it's important to follow proper hygiene procedures, such as washing thoroughly after handling pets and avoiding touching your face, nose, or mouth.
Be aware that these pets can also transmit influenza infections as well (by direct touch as well as aerosolized particles, e.g. fomites), so family members who suspect they are ill should avoid transmitting the disease to their pets or vice versa. Rabbit owners also have another reason (other than Covid-19) to keep their pets isolated at this time: the recent outbreak of Rabbit Hemorrhagic Disease Virus Type 2 (RHDV2), a highly infectious fatal disease that is spreading quickly among wild rabbit populations across the Western US states.
Chickens, Ducks, and Pet Birds
German scientists recently published a study in The Lancet that found that chickens intentionally infected with Covid-19 in the laboratory did not become ill with the virus, most likely due to their ACE2 receptors (the main Covid infection site) being very different from the ones found in humans. Other studies indicate that ducks also have difficulty replicating the Covid-19 virus. As for other pet birds, such as parrots, the CDC has issued guidance that they do not believe pet birds pose a Covid-19 transmission risk.
This is good for chicken, duck, and pet bird owners.
However, it's always a good idea to avoid direct contact with birds, even though children often like to hold and cuddle pet chickens. Chickens, in particular, shouldn't be touched or "kissed" as they can easily transmit salmonella via contact with their heads, feet, feathers, or feces. (By the way, it's considered good practice to brush dried feces off homegrown eggs then wash your hands afterward rather than washing the eggs directly, as liquid damages the protective membrane that keeps salmonella from entering the yolk inside the shell.)
And while birds are not susceptible to Covid-19 transmission, they are a known vector for many types of influenza viruses (viz. avian flu), which is another reason keep birds isolated if they or a family member show signs of illness.
Pigs, Cows, and Horses
The same German study mentioned above that found chickens were not likely to be infected with Covid-19 found that pigs are also not easily infected. This is good news for those who raise pigs as pets or have close contact with them on a farm.
The prestigious veterinary program at Ohio State University also reports no known cases of horses or other livestock, including cows, having contracted or transmitted the Covid-19 virus.
But they do recommend that people and workers in horse stables and other gathering spots wear masks and use social distancing to avoid transmitting Covid-19 between people.
Pet Fish, Turtles, Snakes, and Other Reptiles
Neither pet fish nor pet reptiles appear to be capable of becoming infected with Covid-19, nor do they appear to be a potential reservoir for passing the disease back to humans.
Nonetheless, owners of pet turtles, tortoises, snakes, and other reptiles should be cautious when handling their pets or cleaning their cages.
Salmonella remains a major concern, and a once-popular pet, the Red Slider Turtle, has been banned for sale in the US by the Food and Drug Administration (FDA) due to their propensity to transmit salmonella, which is especially dangerous for infants, young children, and pregnant mothers.  (They are also considered an invasive species, similar to the pet Burmese Pythons released into the wild that have overrun the South Florida Everglades.)
Formaspace is Your Laboratory Facilities Partner
If you can imagine it, we can build it.
We can build your dream laboratory facility or provide you with a fast turnaround for individual lab workbenches here at our factory headquarters in Austin, Texas, where we manufacture high-quality, long-lasting furniture for the top laboratories around in the country.
Want to learn more?
Contact your Formaspace Design Consultant today.