Why Should Businesses Create a Safer Workplace?
This week we are taking a look at the financial impact of health and safety issues at the workplace. Specifically, we will look at two things: first, we'll try to quantify the cost of workplace accidents. And second, we will look at the financial impact of making an investment in improving workplace safety.
What is the total financial cost of worker injuries across the United States in a single year?
Researcher J. Paul Leigh conducted an in-depth study of workplace injuries and illnesses. In his academic journal article "The Economic Burden of Occupational Injury and Illness in the United States" 1, Leigh estimated that in 2007 alone there were approximately 5,600 occupationally-related fatal injuries at work whose economic costs exceeded $6 billion. In addition, Leigh estimates that there were nearly 8.6 million non-fatal injuries in the workplace which cost the economy a further $186 billion.
Taken together, Leigh estimates the total annual cost of workplace injuries at over $192 billion dollars annually. While this figure seems much higher than payouts from worker's compensation programs (which totaled $50 billion a year in 2009 and in 2010 according to a 2012 study by Liberty Mutual 2), Leigh is trying to capture the full economic burden of worker injuries and deaths.
What are the top 5 causes for injury at the workplace?
Now that we've established the huge economic cost of worker injuries, let's look at the top five causes. According to the 2012 Liberty Mutual Workplace Safety Index Report  2, the top five worker injury categories cost over $37 billion dollars. Here is the breakdown by cost and percentage:
Overexertion due to excessive lifting, pushing, pulling, holding, carrying or throwing.

Annual Cost: $13.61 billion 26.8% of disabling injuries

Fall on the same level.

Annual Cost: $8.61 billion 16.9% of disabling injuries

Bodily reaction due to bending, climbing, reaching, standing, sitting, slipping or tripping without falling.

Annual Cost: $5.78 billion 11.4% of disabling injuries

Fall to a lower level.

Annual Cost: $5.12 billion 10% of disabling injuries

Struck by object such as a tool falling on a worker from above.

Annual Cost: $4.1 billion 8.0% of disabling injuries
What is the return on investment for creating safer workplaces that reduce occupational injuries?
In a broad survey of chief financial officers (CFOs) conducted by Liberty Mutual 3, it was reported that over 60% of chief financial officers interviewed agreed that there was a 2 to 1 ratio for return on investment in injury prevent programs, in other words each $1 invested returned $2 or more. And over 40% of these same chief financial officers felt that increased productivity was the primary benefit of establishing a workplace safety program.
Calculating the return on investment for creating safer workplaces is not as straightforward as it sounds. As the saying goes, it's difficult to prove a negative; in other words, to determine an exact return on investment requires establishing a cause and effect between increased spending on safety measures and estimating the number of injury cases which were prevented as a result of the investment. As a result, much of the economic research focuses on specific case studies which document the implementation of a comprehensive workplace safety program (before and after) in order to capture the economic benefits.
Another relevant approach to measuring worker safety comes from new business process planning techniques which do a better job at measuring worker productivity and effects on the environment. In future articles, we plan to look at safety case studies as well as some of these new business planning tools, such as upcoming ISO 55000 international standard which establishes metrics for considering worker safety and health as well as for sustainable business practices that protect the environment. We also plan to discuss the importance of establishing proper ergonomics in the workplace, which can contribute to greater worker productivity with less fatigue and fewer accidents.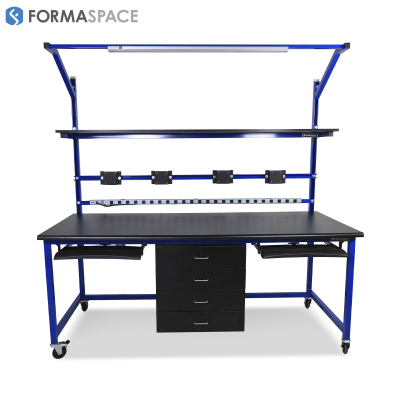 Are you investing in safer workplaces at your company?
The high economic cost of injuries at the workplace is another reason to consider conducting a safety audit of your facility. Are your work surfaces clean and well organized? Do you have sturdy industrial workbenches with sufficient storage shelves and cabinets to help prevent heavy equipment from falling on workers? If you have questions about making the furniture in your facility more efficient and safe, contact one of our dedicated design consultants to discuss ways to improve your productivity and help reduce workplace injuries. For the most impact on your employees' safety and moral, let us conduct an informal rapid plant assessment and present to you industrial furniture designs based on our findings.

<!- End <<< /var/www/vhosts/formaspace.com/wp-content/themes/devformaspace/index.php --> <!- Start <<