Modular Laboratory VS. Fixed Casework
Modular Lab Furniture
Fast Ship Item
A modular laboratory system is scalable as you grow, adaptable as you change, and repeatable based on your needs. Your research and environment changes, but your furniture doesn't always have to. We build workplace furniture that evolves with the changes you adapt to fit a wide range of applications. Reconfiguring your modular lab furniture gives you long term cost savings and minimizes laboratory down time.
Fixed Casework
Longer Lead Times
Fixed casework fulfills traditional laboratory needs that require durability, continuous work surfaces, and maximum storage. Fixed casework is floor mounted and capable of supporting heavy weight for the most economical upfront cost before installation costs. Choose from a wide range of accessories, storage components, and work surface materials specific to your laboratory application.
We create and customize built in systems that fulfill your current laboratory needs.
Chemical Resistant Countertops
Phenolic Resin
Features:
$$$
Used in moderate applications
Moderately chemical resistant
Moderately resistant to carbon-based chemicals
Moderate heat resistant
Paper and resin based
Average lead time
Epoxy Resin
Features:
$$$$
Used heavy duty applications
Highly chemical resistant
Highly resistant to carbon-based chemicals
High heat resistant
Silica and resin based material
Long lead time
Chemical Resistant Laminate
Features:
$
Used in light duty applications
Light chemical resistance
Low resistance to carbon-based chemicals
Poor heat resistance
Laminate based material
Short lead time
Stainless Steel
Features:
$$$$$
Used in moderate to heavy duty applications
Moderate chemical resistance
High resistance to carbon-based chemicals
High heat resistance
Long lead time
HDPE
Features:
$$
Used in light duty to moderate applications
Moderate chemical resistance
Moderate resistance to carbon-based chemicals
Poor heat resistance
Short lead time
Lab Products & Applications

FabWallTM Lab Partitions
Formaspace manufacturers laboratory partition wall modules known as FabWalls. These can be used as island modules or as laboratory room partitions.
Clean Room Furniture
We create ergonomic lab products such as workbenches, mobile carts, storage systems, rack systems, fume hoods, and vent hoods to meet your clean room classifications and design requirements.
Fume Hoods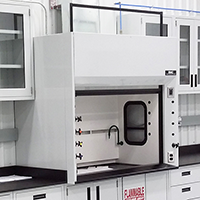 Clear the air of chemical fumes and toxic gases with effective fume hoods built for quality and longevity. We have air-clearing solutions for every lab application from education to specialty professional settings.
Lab Drying Rack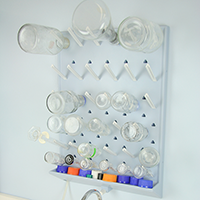 Laboratory peg boards provide a location to dry glassware and other vessels used in your laboratory. Choose from stainless steel, epoxy, phenolic, laminate or HDPE for your wall mounted lab drying rack.
Formaspace Client Reviews

"I recommend Formaspace because they are reliable, timely, and they keep promises."
- J. Garzon, Aviall, A Boeing Company

"Efficient, timely and perfect furniture for our lab! We love the flexibility to never-ending changes that occur in laboratory medicine."
- L. Davis, Mission Health Hospital

"The product is high quality, at a reasonable price and the customer service is excellent!"
- S. Satterfield, Nike, Inc.
Enter Specs in Under 2 Minutes
Build your own bench with your specs here.

It only takes 1 minute...we checked!