ESD Workbench Solutions
ESD Work Surface
About:
$$$
High Pressure Laminate (HPL) or Dual Layer HPL for continuous monitoring
Impact and wear resistant
Heat and chemical resistant
Water and steam resistant
Eradicates need for ESD surface mats
Meets ANSI/BIFMA standards
Built to your required level of ESD compliance
ESD Shelving
About:
$$$
HPL or Dual Layer HPL
Heat and chemical resistant
Impact and wear resistant
Water and steam resistant
Eliminates need for ESD surface mats
Used as upper and lower shelves
Wire shelving and storage components available
ESD Casters
About:
$$
Used for dissapation on mobile units
Floor protective anti-static wheels
Allows electricity to flow through bench
Use on carts, mobile benches, and ESD chairs
Rejects floor debris
Resistant to chemicals, water, and steam
ESD Chairs
About:
$$$
Reduces static charge from sitting
Discharges through floor grounds
Ergonomic features increase productivity and reduce fatigue
Meets ANSI/BIFMA standards
Composed of ESD polyurethane, ESD fabric or ESD vinyl
ESD Mats
About:
$$
Best for light duty applications
Conductive and static dissipative matting used as surface or floor mats
Floor mats reduce workers fatigue and provide comfort
Protects valuable components
Flame retardant, moderate chemical and moisture resistance
Tech Lab Products & Applications
Electronic Repair Workstations
Formaspace creates electronics assembly and repair workstation solutions from single departments to large multi-channel operations. Need something unique? We'll create a custom solution for you. 
Data Entry Workstations
Ergonomics and reduction of workers' fatigue are especially crucial for data entry work benches. We build dedicated spaces that encourage timely and accurate inputs. The functionality of a Formaspace workbench ensures employee health, comfort, and productivity.

Sample Processing Benches
Process samples to get a technical analysis of geological materials, industrial raw materials, scrap metals, and other specimens on a Formaspace sample processing workbench. 
Computer Repair Benches
Get a grounded computer repair bench from the company that serves the top tier computer companies in the Fortune 500. They prefer our innovative solutions, and you will too. 
Makerspace Furniture
What might happen when you give ordinary people extraordinary tools? Regular people begin to collaborate, invent, and discover new materials, technologies, and art forms in well-equipped lab spaces. Whether you're building a Fab Lab for CNC routing, laser cutting, and circuit board fabrication or a local member-based hackerspace, Formaspace offers top of the line furniture for a wide range of innovative spaces. Our materials withstand student exploration of crafts and curious techies heavy duty tinkering. House expensive tools and equipment on modular furniture that is known for durability and strength. Provide workspace that is mobile and stackable for ultimate flexibility.
Tech Lab Workbench Integration
Pair your expensive robotic equipment, DNA sequencer, or 3D printer with a Formaspace fabrication to ensure the longevity and ease-of-use of your product for your end-user. Simplify the production process of a frequently made item with an all-inclusive kit of parts and tools on a mobile workstation. We give your equipment or assembly mobility, modularity, stability, and a dedicated station with a Formaspace bench. Have a very specific pairing or kitting need? We provide custom solutions, free drawings, and free design consultation. 
Tech Lab Accessories
Tech Lab Furniture Lighting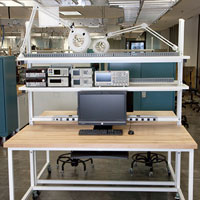 Visual clarity is critical in a tech lab or dry lab environment. See clearly with long-lasting overhead LED lighting and focus on miniature items with a magnifying task lamp. Have a specific lighting need? Tell us about your task and we'll provide industry compliant solutions.
Tech Lab Furniture Accessories
You have detailed needs and we have workbench accessories to improve your dry lab environment. Bin rails and bins are frequently used to store and organize common items. Add monitor arms, ESD kits, cable management, CPU brackets, power strips, and keyboard trays to optimize your computing benches.
Formaspace Client Reviews

"I recommend Formaspace because they are reliable, timely, and they keep promises."
- J. Garzon, Aviall, A Boeing Company

"Efficient, timely and perfect furniture for our lab! We love the flexibility to never-ending changes that occur in laboratory medicine."
- L. Davis, Mission Health Hospital

"The product is high quality, at a reasonable price and the customer service is excellent!"
- S. Satterfield, Nike, Inc.
Enter Specs in Under 2 Minutes
Build your own bench with your specs here.

It only takes 1 minute...we checked!