Industrial Tool Benches
Heavy Duty Tool Bench
Formaspace designs tool benches with high flexibility and rugged durability in mind. Typical tool bench designs include a fully welded steel frame, high-load bearing plate casters, 11-gauge or 16-gauge square tubular steel frames, and heavy-duty metal or melamine drawer systems. Formaspace only uses high-quality American Steel and Melamine.
Workshop Bench Applications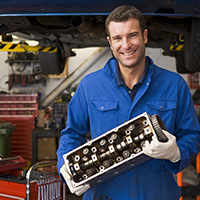 Whether you are a weekend warrior in your garage, or you are working at a mechanic facility, repair center, assembly line, or a supply station; operating at a custom designed tool bench is essential for safety and efficiency. We strive to better the places you work through well thought out furniture that is designed to your application and needs. Contact Formaspace for a free consultation and find out how we can enhance your operation!
Tool Bench Selections
Tool Storage
From tool cabinets to drawers, Formaspace builds industrial-strength tool storage units. Upon request, custom foam cut-outs can be added for highly effective tool organization.
Tool Shelves
Add adjustable height shelves to your tool bench for overhead organization. Angled shelves and pencil lips are available selections for your work bench. Most common shelf materials are melamine, steel or maple block.

Tool Pegboards & Louvered Wall Panels
Use a panel system to organize tools and create a productive workspace. Formaspace tool pegboards and louvered wall panels can be attached to your tool bench and will maximize storage capacity per bench. Ask your Design Consultant for more information!
Tool Balancer & Tool Trolley
Attach your frequently used tools to a retractable tool balancer to create a more efficient workstation. Ask your Design Consultant to include a tool balancer or tool trolley on your tool bench design.
Tool Bench Work Surfaces
Butcher Block – Solid Wood
About:
$$$
Highly durable
Can be sanded if scratched
Visually appealing
Natural material
Maple, walnut, cherry or red oak solid woods available
Steel – Powder Coated
About:
$$
Can be powder coated to any color
Extremely durable
Carbon-based chemical resistance
Heat and fire resistance
High-Quality American Steel
Stainless Steel
About:
$$$$
Appealing design
Easy to clean
Extremely durable
Resistant to liquids and chemical spills
High-Quality American Stainless Steel
Longest lead time
Phenolic
About:
$$$
Layered paper and resin-based
Chemical resistant and nonabsorbent
Impact resistant, extremely hard material
Can be damaged by fire
Moisture resistant
Easy to clean
Tool Bench Enhancements
Workbench Foot Options
Depending on your need for flexibility in the workflow, adding casters or anti-vibration levelers can help when re-configuring your facility, moving an integrated equipment bench, protecting sensitive products during assembly or repair, etc. Contact Formaspace Design Consultants with your unique requirements.
Tool Bench Accessories
Consider equipping your tool bench with proper lighting, power strips, cable management, height adjustability mechanisms, bin rails, ESD grounding kits, and various other options. Check with your Formaspace Design Consultant today.
Tool Rack Systems
Pair your industrial racking system with tool benches to store and organize products and tools. Add mobility to your rack system for a flexible operation, just ask your dedicated Design Consultant about our caster options.
Industrial Mobile Carts
Increase the effectiveness of your operation with heavy-duty Formaspace mobile utility or tool carts. High-load capacity and custom sizes available upon request. A custom cart can be designed and built for your task-specific need. Contact us today.
Formaspace Client Reviews

"I recommend Formaspace because they are reliable, timely, and they keep promises."
- J. Garzon, Aviall, A Boeing Company

"Efficient, timely and perfect furniture for our lab! We love the flexibility to never-ending changes that occur in laboratory medicine."
- L. Davis, Mission Health Hospital

"The product is high quality, at a reasonable price and the customer service is excellent!"
- S. Satterfield, Nike, Inc.
Enter Specs in Under 2 Minutes
Build your own bench with your specs here.

It only takes 1 minute...we checked!