Industrial Storage Rack Features
Heavy Duty Storage Racks
Depending on your requirements, Formaspace will build your custom rack from 16-gauge square tubular steel frames which carry over 2000 lbs. evenly dispersed. All our framework comes fully welded unless specified otherwise.
Mobile Storage Racks
Utilizing facility floor space and improving the footprint is the ultimate goal when retrieving stored products on or between racks. Formaspace will attach casters to mobilize your storage rack system. Caster selection varies depending on the load capacity desired. Let your Design Consultant know your requirements.
Industrial Racks & Storage Carts
Flow Rack
Industrial flow racks increase spatial efficiency and reduce labor cost and time. Custom designed Flow Rack systems provide First-in/First-out (FIFO) control for inventory, assembly, and packing & shipping facilities. They can also be customized to match your SKUs and integrate with conveyors. Is your facility flowing at maximum throughput? Hit your output target with Formaspace Flow Racks today!
Laptop Storage Cart
Laptop & Tablet Storage Carts are a popular product for electronic assembly, repair facilities, modular office spaces, educational buildings, mobile POS retailers, and tech events. These racks are customizable and can be equipped with ESD shelves, partition loops, power distribution units for charging, and the options are endless. Contact a Design Consultant for your custom storage rack solution.

Computer & Server Rack
We can customize rack systems to store your servers during testing. Other computer workstation units need to be organized and accessible to your IT operations too. Contact us to get the ideal IT racks for all of your tech hardware!
Wire Spool Rack
Whether stationary or mobile, Formaspace Reel and Wire Spool Racks are a common solution to any material handling operation. Industrial steel roller-bar racks are designed to hold heavy duty reels or light duty packing materials. Contact us for your custom solution today.
Mobile Storage Cart
Custom designed steel shelving carts are mainly used for moving materials or products between stations. Common shelving carts include, but are not limited to, tool carts, cantilever carts, recycling carts, waste carts, etc. Contact us for your mobile cart project today.
Cantilever Racks – Light Duty
Formaspace Cantilever Racks will hold up to 2000 lbs. Custom dimensions are available upon request. Give your Design Consultant your specifications and we'll engineer a custom solution.
Storage Cart Products
Rolling Storage Cart with Bins
Commercial and industrial bin storage rack systems can be customized to fulfill any operation type and to carry any bin size. These are most commonly used in manufacturing environments and educational institutions. Bins are great storage units for small parts, educational materials, and art supplies.
Wire Racking Systems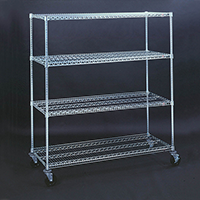 Wire rack systems offer 62" linear airflow, meeting the most stringent clean room standards. Add casters for mobility and inquire about size and configuration options.
Formaspace Client Reviews

"I recommend Formaspace because they are reliable, timely, and they keep promises."
- J. Garzon, Aviall, A Boeing Company

"Efficient, timely and perfect furniture for our lab! We love the flexibility to never-ending changes that occur in laboratory medicine."
- L. Davis, Mission Health Hospital

"The product is high quality, at a reasonable price and the customer service is excellent!"
- S. Satterfield, Nike, Inc.
Enter Specs in Under 2 Minutes
Build your own bench with your specs here.

It only takes 1 minute...we checked!