Material Handling Work Bench Options
Material Handling Workbench Integration
Formaspace will help you design a solution for efficiency and productivity in your particular material handling operation, ensuring your workers never have to reach outside their immediate space to complete their objectives. Formaspace also offers solutions to integrate your material handling process with custom conveyor systems or roller & transfer ball tops. Contact us for details.
Flow Rack for Material Handling
Custom designed Formaspace flow racks create a modular and flexible material handling environment that improves space utilization and efficiency. Productivity is ensured with materials efficiently flowing through the system, with an optimized travel time, and minimum maintenance requirements. This process results in the highest throughput. Contact us to get your materials flowing efficiently today!
Adjustable Shelves & Pencil Lips
Upper shelves can be height-adjustable based on the flexibility need in your changing material handling operation. Adding pencil lips to angled shelves to prevent objects from sliding off the intended storage area is another popular add-on feature for material handling benches. Contact Formaspace for your custom solution.
Custom Workbench Compartments
Our ability to create custom solutions like scale cut-outs & shelves and printer/waste disposal pull-out compartments help increase efficiency at your material handling stations. Contact us to customize your next material handling workbench project.
Material Handling Chutes
Chutes are great for materials sliding from a conveyor system to the processing stations, sending processed materials back to the system, or even to dispose of waste. Material handling chutes complete the material handling cycles. Custom-made Formaspace chutes can be integrated to your workbench – call a Formaspace Design Consultant with your specs now.
Storage for Material Handling Bench
Formaspace can build any storage compartment you need for your material handling operation. Some of the options include, but are not limited to, upper or lower level cubbies, cabinets, shelves, drawers, and tool boxes.
Louvered Wall Panels & Bin Rails
Louvered wall panels and bin rails can be integrated to your Formaspace Benchmarx™ workstations. This creates a space saving design and ensures your operation will be lean by storing small parts or supplies within arms reach.
Material Handling Accessories & Floor Mats
The most common accessories used on material handling workbench configurations are shelf dividers, bins, monitor arms, overhead lights, power strips, cable management units, and more. Formaspace also offers high-quality, anti-fatigue mats to provide ergonomics and improve operator health. Contact Formaspace to order the right floor mats based on the weight and floor type.
Material Handling Table Enhancements
Adjustable Height Workbench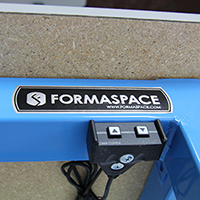 All our material handling workbenches can be equipped with hydraulics to provide ergonomics for operators. Depending on the frequency of adjusting a workstation height or the project budget, different hydraulics options can be selected. Contact a Formaspace Design Consultant to learn your options.
Mobile Material Handling Stations
Adding industrial grade casters to your material handling workbench and the assisting rack systems, bin carts, service benches, stand-alone storage units, utility carts, and tool carts make your operation run at a higher productivity level. Contact us with your custom mobility needs today!
Formaspace Client Reviews

"I recommend Formaspace because they are reliable, timely, and they keep promises."
- J. Garzon, Aviall, A Boeing Company

"Efficient, timely and perfect furniture for our lab! We love the flexibility to never-ending changes that occur in laboratory medicine."
- L. Davis, Mission Health Hospital

"The product is high quality, at a reasonable price and the customer service is excellent!"
- S. Satterfield, Nike, Inc.
Enter Specs in Under 2 Minutes
Build your own bench with your specs here.

It only takes 1 minute...we checked!