Heavy Duty Workbench Features
Mobile Workbench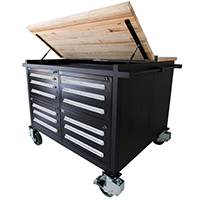 Add mobility to your benches to create a flexible production or assembly environment. Mobile workstations seamlessly move heavy equipment to reduce TAKT time and increase efficiency for your fluctuating operation.
Adjustable Height Bench
Our manual or electric hydraulic accessories provide height adjustability to any heavy duty industrial environment. Get industrial strength without sacrificing the flexibility to accommodate multiple shifts with an ergonomic design. Tell us about your heavy duty workbench project today.
Heavy Duty Work Surface
With a particular work surface corner and side treatment, our high-pressure laminate countertop is the most durable and cost-effective solution. Following HPL are steel, solid wood, and epoxy resin countertops. Tell us about your application and aesthetic requirements, and we'll work with you to find the best work surface option for your heavy duty bench project.
Fully Welded Steel Frame
With over 35 years of experience, we have mastered the craft of the steel frame structure to exceed heavy duty industrial requirements. Depending on your task and the load capacity needs, different sizes of fully welded tubular 11-gauge steel frames are used. Our workbenches ship fully welded to last forever, and our professional installation team flies from Austin, TX to anywhere in the world to ensure perfection. Contact us for free workbench design and consultation!
Heavy Duty Custom Products

Heavy Duty Rack System
Our industrial rack systems have a load-bearing capacity of 800 pounds. Wire rack systems offer 62" linear airflow. Our design and engineering team will even custom create a flow rack system for your material handling environment. Contact Formaspace today to get a rack system customized to your heavy duty task.

Tool Balancer
Add a Formaspace tool balancer or tool trolley to your Benchmarx™ as an overhead attachment. Connect your power drills and other frequently used tools to the trolley bar for a seamless transition from side to side.
Formaspace Client Reviews

"I recommend Formaspace because they are reliable, timely, and they keep promises."
- J. Garzon, Aviall, A Boeing Company

"Efficient, timely and perfect furniture for our lab! We love the flexibility to never-ending changes that occur in laboratory medicine."
- L. Davis, Mission Health Hospital

"The product is high quality, at a reasonable price and the customer service is excellent!"
- S. Satterfield, Nike, Inc.
Enter Specs in Under 2 Minutes
Build your own bench with your specs here.

It only takes 1 minute...we checked!