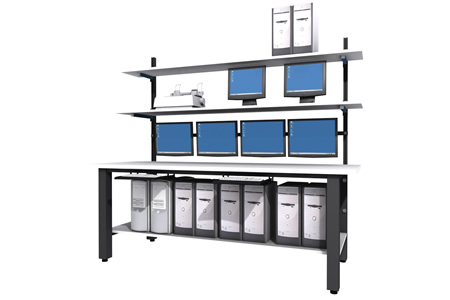 LAN Stations For What's Next
Formaspace LAN Stations offer the same fully adjustable shelving and storage options as the Benchmarx standard, along with
professional-grade power strips
and ESD options for a durable and dynamic IT workspace environment. Formaspace LAN stations can be integrated with a variety of rack systems and cable management for maximum performance and aesthetic appeal.
In typical high tech settings, Formaspace recommends a combination of attached and stand-alone work benches, tables, and storage options offering a mix of flexibility and task-specificity.
LAN Stations Built on the Benchmarx Standard
Benchmarx workbenches are popular in electronics applications for their high durability, task-specificity, and variety of modular, custom options, such as super-duty upper shelving, cabinetry options, and
ESD surface
options. Benchmarx benches can be built as stand-alone units or as part of an attached-semi-permanent furniture system, and are fully welded for the ultimate in durability and convenience.
Standards:
Uprights for super-duty shelving or upper cabinets
16 gauge tubular steel
Widths between 48″ and 96″
ESD package option
Cable management options
Duty-rated to 1,000 lbs.
ESD Compliance
ESD compliance is a key factor for many of our clients. Formaspace is a member of the ESD association, and exceeds all applicable industry standards for ESD construction.
Not what you're looking for? More Computer Workstations
LAN Station Features
Durable Steel Frame Construction
Versatile Upright System allows for easy re-configuration and personalization
Available Mobility Options
Height Adjustment Options
LAN Station Options