LAN Rack Solutions
LAN Racks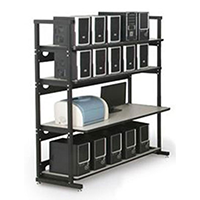 Custom designed Formaspace LAN rack solutions doesn't require any assembly. It arrives fully assembled and it can be designed to store any combination of computer workstations and servers. For a multi-purpose operation, add monitor arms to the design to use your custom-made rack system as a monitoring LAN stations.
Custom Server Racks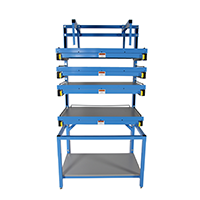 Formaspace is a solution-oriented manufacturer. We provide IT solutions to most of the biggest tech companies in the country for over 30 years. Depending on your operational need, we can design and build ESD server racks, pull-out shelves that safely carry hundreds of pounds each, as well as articulating shelves to increase spatial efficiency and productivity.
LAN Station Options
ESD LAN Workstation
Built-in ANSI ESD S20.20 compliant workbench solutions provide a durable, easy to maintain, and aesthetically pleasing option for the safety of your electronic assembly or repair operation. Formaspace ESD workstations are a permanent solution, preferred over ESD mats, that eliminate the need to buy and replace mats. Contact us now to speak with an expert!
Mobile Standing Computer Station
Running your operation in tight spaces? Need a mobile tradeshow solution or to register visitors in-store? Formaspace Mobile Standing Computer Stations are designed for operators who need mobility and maximize spatial efficiency. Contact us for a custom-made mobile standing workbench.
Corner & U-Shaped LAN Workstations
Formaspace Corner LAN Benches or U-Shaped Workstations are designed to increase productivity and spatial efficiency. Every office space is different in size and shape. That's why we offer free design services to fit into your specific workplace. Contact your Formaspace Design Consultant with your office plan and requirements today! Use our Corner Workbench Calculator for your complicated desk space calculations.
Computer Repair Workstation
Modular Formaspace Computer Repair Workstations give flexibility to your operation. Whether you are in the back of a minivan or in a warehouse, we can custom design your specialized repair stations to increase productivity and safety. Please contact a design consultant to learn about our ESD options and free workstation design services.
Heavy Duty LAN Benches
Our standard LAN workbenches and LAN rack systems are built with fully welded steel frame, and standard options come with 1000 lbs. load bearing capacity. If requested, our frames can be designed to carry up to 20,000 lbs. Contact us about your project.
LAN Workplace Ergonomics
Ask Formaspace Design Consultants to add height adjustability through hydraulics and mobility with casters to create a healthier and more ergonomic workplace.
Portable Testing & Charging Station
We understand every business has different needs and we are here to provide the right solution for your operation. Our custom made mobile, laptop, and tablet station not only provides on-spot testing or charging but also offers a portable storage option. Contact us with your requirements today!
LAN Station Accessories
LAN workstations and racks commonly require anti-static protection in the furniture solution. We're the industry leader for ESD integration, also offering ESD kits, bin rails with bins, four different monitor arm or mount options, CPU holders, keyboard trays, cable management systems, power strips, and many other options.
Formaspace Client Reviews

"I recommend Formaspace because they are reliable, timely, and they keep promises."
- J. Garzon, Aviall, A Boeing Company

"Efficient, timely and perfect furniture for our lab! We love the flexibility to never-ending changes that occur in laboratory medicine."
- L. Davis, Mission Health Hospital

"The product is high quality, at a reasonable price and the customer service is excellent!"
- S. Satterfield, Nike, Inc.
Enter Specs in Under 2 Minutes
Build your own bench with your specs here.

It only takes 1 minute...we checked!