Multi-user Workstation Features
Ergonomic Sit-to-Stand Benches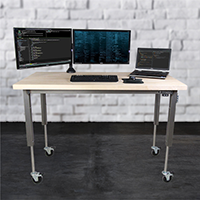 The ideal workbench height depends on the users' physical requirements, seating, keyboard & mouse placement, and other factors. Accommodation is necessary for employee health, safety, and comfort. That's why Formaspace strongly recommends ordering a height-adjustable workbench to increase productivity and efficiency. Contact us to create the best configurations for your new data entry stations!
Corner Data Entry Workstation
Utilize tight workspaces and accommodate multiple users on a single bench for administrative workstations. With Formaspace Corner and U-Shaped Data Entry Workstations, you can host 2+ operators per bench. Get started with your Design Consultant today!
View our Corner Workbench Calculator to calculate desk spaces.
Data Entry Workbenches
Reception Desk – Bench Plus™
Make a great first impression with your facility visitors with a unique reception desk. The first impression is just as important as the functionality of the workbenches. Work with a Formaspace Design Consultant to customize your next reception desk or order one of our standard Bench Plus™ Reception Desks today!
Mobile Storage Units
Need to store and transport documents, tools, electronics or office gadgets? Formaspace builds customized mobile storage units to fulfill unique facility needs. Whether you need a stacked file drawer on wheels or a fully custom storage unit, Formaspace is your solution provider. Contact your Design Consultant now!
Data Entry Bench Accessories
Footrests, file drawers, CPU holders, articulating keyboard trays, pull-out keyboard trays, cable management, power strips, and casters, among others, are popular data entry workbench accessories.
Office Chairs
Work comfortably in ergonomic seating solutions provided by Formaspace! Ask your Design Consultant for data entry seating options.
Formaspace Client Reviews

"I recommend Formaspace because they are reliable, timely, and they keep promises."
- J. Garzon, Aviall, A Boeing Company

"Efficient, timely and perfect furniture for our lab! We love the flexibility to never-ending changes that occur in laboratory medicine."
- L. Davis, Mission Health Hospital

"The product is high quality, at a reasonable price and the customer service is excellent!"
- S. Satterfield, Nike, Inc.
Enter Specs in Under 2 Minutes
Build your own bench with your specs here.

It only takes 1 minute...we checked!