Custom Industrial Workbenches
Custom Workbench Ideas
Designing Custom Industrial Workbenches with Formaspace is a fun and creative process, and our design services are free! Please contact our designers using the form at the right or by calling 1.800.251.1505 today!
Industrial Design
In the ideation stage, we toss ideas back and forth by phone, eventually coming up with casual hand-drawn designs or modifications of past designs for rapid prototyping.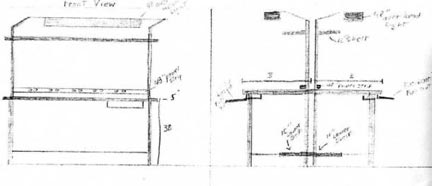 Initial Workbench Drawings
In the second stage, your design consultant may draw a somewhat more formal graph paper sketch, laying out specific dimensions of benches and floor space. We may work with you to modify the design as required for your project.

AutoCAD Renderings
For larger, more complex projects, our designers may create AutoCAD renderings or other more formal drawings. Formaspace will integrate our designs into your architect's floor plans upon request.


Not what you're looking for? More Industrial Workbenches
Industrial Work Bench Features
Available Mobility Options
Height Adjustment Options
Durable Steel Frame Construction
Versatile Upright System allows for easy re-configuration and personalization
Packing Station Accessories

Bin Rail and Plastic Bins
Seating Options, including Sit/Stand
Industrial Workbench Options