Amazon Seeks to Establish Closer Customer Relationships
We began this series by looking at warehouse fulfillment and distribution centers. Along the way, we said that Amazon operated at a level that was approaching something beyond the retail 'Omni-Channel' model… that in fact Amazon was pursuing so many businesses simultaneously it should be called an 'Omni-Business Model' operation. In this article we will identify three business models that illustrate the extent Amazon has moved beyond the traditional retailer business model. Then we'll identify two strategic gaps in Amazon's strategy and what Amazon is doing about it.

Amazon Electronic Books: Enabling Close Customer Relationships
The first business model is actually Amazon's original one: online book sales. Yet while Amazon is indisputably the leading retailer of printed books, it's fascinating they were not afraid to cannibalize their own lucrative business model by establishing an electronic book marketplace. Unlike the old line music and motion picture industries, Amazon jumped at the opportunity to champion electronic book sales rather than let someone else enter the space and take away their market share.
As a positive side effect (for Amazon!) electronic books help Amazon to get closer to its customers, thanks to the Kindle eBook reader's built-in ability to gather comprehensive marketing data on customers' reading habits. The Kindle system also facilitates charging different price points to maximize revenue. Two common examples: Amazon offers instant downloads of an eBook for an extra fee while you wait for delivery of the physical book and it can also offer short-term rentals of eBook titles.
Amazon Cloud Computing: Establishing Customer Relationships in the Cloud
Our second Amazon business model is one that may be studied in business schools well into the future: Amazon turned the cost of maintaining its massive data centers from an expenditure into a profit center by selling their existing IT services to third-party companies. Today, well-known websites such as Reddit use Amazon Web Services (AWS). The pay-as-you-go model of these Amazon cloud services has enabled small Internet start-ups, like Pinterest and Instagram, to grow rapidly. Other cloud computing service offerings now compete with AWS, including Microsoft's Azure, Dropbox and the Rackspace Open Cloud Computing Platform. Earlier this month, Google announced a dramatic price reduction for its cloud computing platform, in a bid to radically alter the competitive marketplace and win market share. Amazon responded immediately with lower prices to match Google.
Amazon Video on Demand: Building Customer Relationships Through Content
Our third example is the Amazon's strategy to leverage its Kindle and Amazon's Video on Demand service to make Amazon the media hub of your living room (instead of Netflix). At the moment, Netflix is the 'Amazon' of the video streaming market. According to a Qwilt report in Variety, Netflix held 57.5% of the video stream market in March 2014. Google's YouTube was in second place with 16.9%, Amazon increased its share to 3%, followed closely Hulu, with 2.8% of the market. In order to increase its market share, Amazon is following Netflix's strategy by acquiring exclusive television deals such as PBS's popular "Downton Abbey" and SpongeBob SquarePants from Viacom's Nick Jr. It's also following in the footsteps of Netflix's critically-acclaimed "House of Cards" by creating original Amazon-produced content such as "Alpha House" and "Betas".
Interestingly, Amazon also announced this week it has acquired ComiXology, the leading online comic book source, so there may be synergies from this acquisition as well. Amazon is also taking a loss leader approach by offering free movies and television shows to its existing $99 Prime membership club, targeted at repeat purchasers interested in free two-day package delivery. But following Netflix's lead is pretty much a 'me too' strategy and Amazon has bigger ambitions. As you may know, the Amazon Kindle product line has already grown from its eBook reader roots to become a powerful tablet computer (Kindle Fire) in its own right that competes with the likes of Apple's iPad and Google-powered Android Tablets.
Now Amazon has introduced a full-fledged Kindle Fire HD streaming media player (a.k.a. set-top box) that connects to an HD television. It's also another example where Amazon is pursuing its strategy to become closer to the customer — in this case right at home in their living room where they make content viewing decisions. If this combination is right and Amazon is able to displace Netflix as the leading Video on Demand provider, that would be an incredible coup.
What's Missing in Amazon's Strategy and How can Competitors Compete?
If you're one of Amazon's competitors, it's probably hard to imagine that Amazon has any strategic weaknesses at all. However, there are couple areas that Amazon probably sees as strategic shortcomings. We'll look at two major ones.
Amazon's Product Search Vulnerability: Loss of the Customer Relationship
There's no question that Google is number one in Internet web searches. But when you look specifically at intent to purchase, Amazon is used more widely than Google for comparison price shopping  when customers are searching for product comparison information with an intent to purchase. But Amazon's shopping search advantage is potentially vulnerable because, unlike Amazon, its major competitors like Apple, Google, Samsung and Microsoft/Nokia all own the mobile computing platforms in the hands of consumers. Amazon views this as a strategic disadvantage, as witnessed by their recent private announcements made to software developers in recent weeks.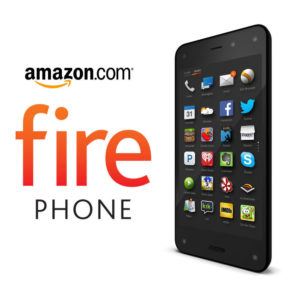 The Wall Street Journal is reporting that Amazon will announce its new phone in June and it will begin shipping by the end of September 2014. Sources indicate that this new phone (which is rumored to be built by HTC in Taiwan) will utilize a viewing technology to simulate 3-D imagery. This is perfect for Amazon, whose ultimate goal is to increase product sales by product searches on mobile devices. With their own branded Amazon phones in consumers' hands, Amazon searches won't be at the mercy of technology players like Apple, who, for example, booted Google Maps off its iOS platform.
Amazon Lacks its Own Online Mobile Payment Strategy
Payment systems are very powerful and profitable. This is the second strategic initiative where Amazon has fallen behind. Many of its top competitors have payment systems: eBay has PayPal and Apple has iTunes as a payment system for music and apps. Worryingly for Amazon, a raft of new start-ups, like Square and Stripe are making rapid inroads into retailer payment systems. Other big players are also on the move in this space as well. This past Monday, it was reported that Facebook's Sheryl Sandberg is seeking approval in the EU for integrating emoney into Facebook.
In 2013 Facebook facilitated $2.1 billion in transactions just for game purchases alone. The potential for making purchases of all sorts is quite enormous. So comes as no surprise that Amazon is jumping into the mobile payments market. It is well-positioned to do so. Consider that it already provides cloud-based IT services for thousands of websites, and it also provides storefronts for thousands of small retailers (and some large ones) on Amazon.com. It's not that much for stretch for it to provide checkout and payments transaction processing for customers, either at physical retail locations or for their websites. Once an Amazon branded mobile smartphone devices available, that will be the icing on the cake for this part of the strategy.
In our final installment of this series we'll look at how upstart competitors like Zulily and other online retailers are filling the holes in the market to compete with Amazon.
If you are an online retailer or in the warehouse fulfillment business, you'll want to learn more about Formaspace and its complete line of industrial workbenches, packing tables, sorting stations and other technical furniture you need to maximize efficiency at your facility. We offer American-made furniture built right here in our Austin, Texas factory. Choose from popular furniture designs which you can customize to fit your needs. Or if you already know what you want, we can work from your AutoCAD or Revit drawings to build furniture to your specifications. Not sure what's best? We can help develop the best solution for you, whether it's one of our standard products or a fully custom solution designed just for your needs. Give us a call at 800.251.1505 and speak with one of our furniture experts today. We look forward to it!