Why Walmart's Focus is on Distribution and Transportation Logistics
In our last article we looked at the outlook for growth in materials handling equipment and forecasts for new and expanded distribution centers. In this article, we will focus on the investment that Walmart has made in distribution, transportation and logistics, and how that focus has given it a competitive advantage. In our next article will look at how Amazon, founded 20 years ago, has risen even faster and is taking on Walmart and the rest of the retail industry.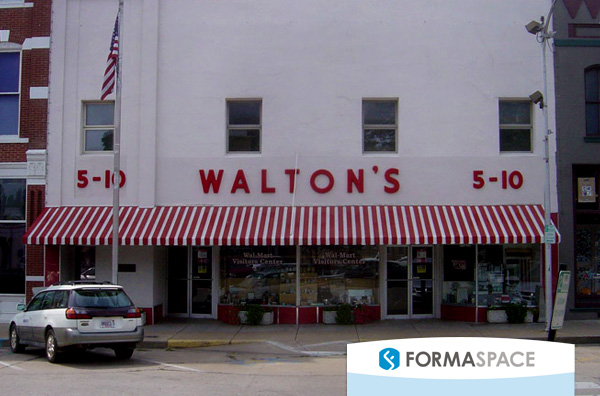 For Many Years, Retailers Focused their Attention on the Imposing 800 Pound Gorilla in the Room: Walmart
Sam Walton opened the first Walmart discount city store in Rogers, Arkansas, way back in 1962. By 1970, Walmart went public and relocated its home office and distribution center to its present headquarter location in Bentonville, Arkansas. Sales at that time topped $44 million and there were over 1500 employees at 38 store locations.
What is the Underlying Reason for Walmart's Success? Distribution and Transportation Logistics
Over the years, many people assumed that the reason for Walmart's success had to do with its apparent focus on low-cost locations. Certainly, its early presence in Arkansas, Oklahoma, Kansas, Louisiana and Missouri helped support the idea that low cost real estate must be the reason for its success. However, the true reason for Walmart's success comes from a strategy that focused with laser-like precision on the radical reinvention of distribution and transportation logistics. In the Sam Walton biography "Made in America", there is an important quote from Joe Hardin, Walmart EVP, Logistics from 1986 – 1997: Hardin tells us what made Walmart succeed:
"Distribution and transportation have been so successful at Walmart because senior management views this part of the company as a competitive advantage, not as some afterthought or necessary evil. And they support it with capital investment. A lot of companies don't want to spend the money on distribution unless they have to. Ours spends because we continually demonstrate that it lowers our costs. This is a very important strategic point in understanding Walmart."
Walmart Leads the Way in Distribution Technology
In 1987 Walmart switched on the world's largest private satellite network. In an era prior to availability of cell phones or the Internet, having its very own private satellite network gave Walmart a significant logistical advantage over its rival retailers. This technological investment of $24 million allowed Walmart to communicate instantly with its nearly 1200 stores and keep track of inventory and sales changes in real-time.
For example, even as you purchased an item at Walmart, the headquarters in Bentonville, Arkansas took notice and the system modulated the stock replenishment orders based on your purchases and those of thousands of others like you across the entire Walmart sales network. Today with the Internet we take this real-time data collection for granted, but this was quite radical in 1987. This satellite-powered data collection network enable Walmart to develop its vaunted 'big data' sales forecasting models.
These models can predict in advance (based on previous sales trends, weather forecasts, and more) what to stock in its stores (and in what quantities) as well as to react quickly to take advantage of sales spurts that sales model forecasts had not yet learned to anticipate. By 1990, Walmart's revenue exceeded that of its rivals Sears Roebuck and Kmart, making it the largest US retailer by sales revenue. In 2014, Walmart's operating income will likely exceed $475 billion dollars.
Scale of Walmart Distribution Center Real Estate in the USA
According to MWPVL International, there were 157 Walmart and Sam's Club distribution centers in the US in 2013, with a combined square footage of 118,000,000 ft.². These 157 distribution centers were supporting 721,000,000 ft.² of retail space (all within the US). The largest of these distribution centers are known as regional General Merchandise Distribution Centers (GMDCs). It is reported that Walmart has 42 GMDCs operating in the US, each of them comprising 1,000,000 to 1,600,000 ft.², with a typical staffing level of 1,000 warehouse workers at each facility. The facilities are designed to support between approximately 90 – 170 stores with an average distance to the stores of about 124 miles.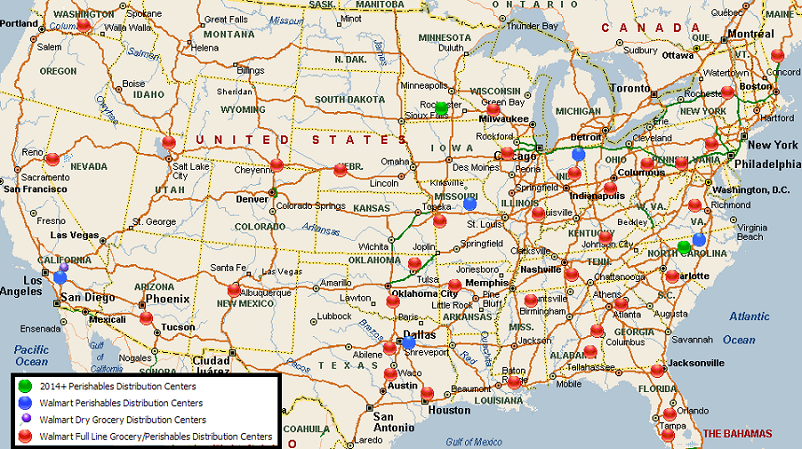 Walmart Remixing Strategy for Fast Selling Items, Including Dry Grocery Products
Walmart appears to have moved toward a Fast/Slow Distribution Strategy, also referred to as a 'Remixing Strategy'. In a nutshell, this approach means that faster selling items are stocked at a larger number of distribution centers located closer to local Walmart stores (while slower moving items are stocked further away.) This approach reduces over the road transportation miles (which is good for the environment, a Walmart corporate strategic goal) and reduces the chance that consumers will find a product out of stock at their local Walmart. Dry grocery items are now treated the same as general merchandise items; previously these were segregated into the dedicated Walmart Grocery Distribution Network.
Dedicated Walmart Grocery and Perishables Distribution Centers
MWPVL International also reports that Walmart currently operates 42 grocery distribution centers across the United States, totaling 34,700,000 ft.². These distribution centers are used to distribute dairy, deli meats, fresh meat, produce and frozen food as well as those dry grocery items which may also be stocked by the general merchandise distribution centers.
Walmart Port of Entry Import Distribution Centers
Walmart has significant import distribution facilities at five major US ports: Chicago; Norfolk, Virginia; Savannah, Georgia; Houston and Long Beach, California. At each of these ports, containers from inbound ships (primarily arriving with goods from the Asia-Pacific region) are unloaded to the adjacent Walmart Import Distribution Centers. The merchandise is then redistributed and trucked to the regional General Merchandise Distribution Centers (GMDC) or Grocery and Perishables Distribution Centers within that region.
Walmart Center Point Distribution Centers
Walmart has another strategy for distributing products sourced from domestic suppliers. Rather than having suppliers deliver small batches of goods which would not fill up an entire truckload (known as less than truckload, or "LTL" loads), Walmart has 19 facilities — which they call Walmart Center Point distribution centers –dedicated to receiving these small, LTL truckloads directly from the factory. By consolidating multiple small truckloads at the Center Point Distribution Centers, Walmart reduces inbound travel miles and maximizes the efficiency of its primary distribution centers, which only need to handle full truckloads.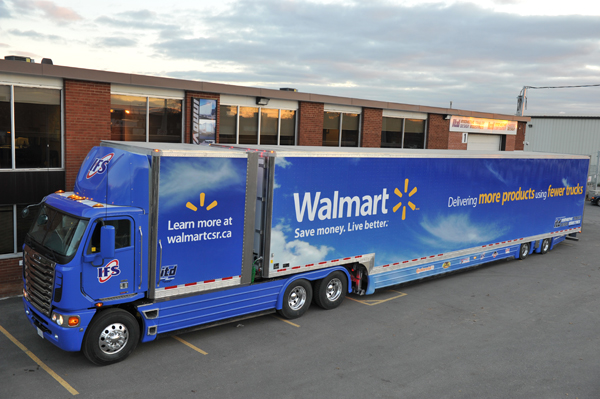 Still King of the Hill? Upstart Amazon Threatens Walmart
20 years ago, few would have predicted that Microsoft would lose its primary position as the undisputed leader of computer software technology to an upstart named Google. The same could have been said for Walmart at that time. Yet 20 years ago (1994) happens to be the year that Jeff Bezos laid down plans to take over the world of retail by first focusing on online book distribution. In our next article we'll take a look at Amazon's strategy for distribution centers and how Amazon has moved beyond the omni-channel sales model to a new world of the omni-business model.
Formaspace is your partner for building distribution center infrastructure.
If you are in the distribution business we can help you become more efficient and expand your business. Contact our technical furniture consultants today to discuss our full line of industrial packing tables, sorting tables and industrial workbenches. We can create a custom solution just for you.