Santa's Helpers – Christmas Delivery Rush at Fedex, USPS, UPS & Amazon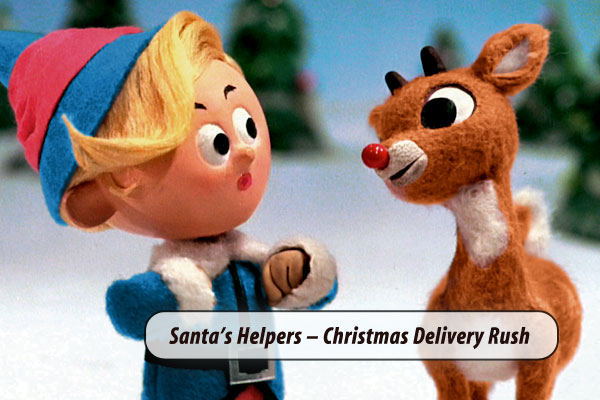 Today is the Eve of Christmas Eve. It's just T – 2 days until Delivery Day.
For those of us that are working adults, we're probably thinking about wrapping things up at our workplace on Thursday afternoon — and maybe taking it little it easy between now and New Year's Day as we enjoy our time with family and friends.
That's not the case for at least three groups of people: Last minute Christmas shoppers who missed the deadline for online delivery, young children who are beside themselves with anticipation for opening gifts on Christmas Day, and Santa's little helpers working in the distribution, fulfillment and shipping industries who are working their little elven butts off to get those gifts under the tree on by Christmas morning.
Yet, despite all the long hours and overtime, the right gift to the right child at the right time can make all the difference. In the heartwarming video above, United States Postal Service (USPS) workers in Rogers, Arkansas make a special delivery to a young girl who asked Santa for a puppy. If this doesn't bring tears to your eyes, you need to get checked out at the ophthalmologist.
So What Does it Take to Get These Packages Delivered by Christmas?
Let's take a look first at the U.S. Postal Service. Between now and New Year's Eve they will deliver around 15 billion packages. This past Monday is the shortest day of the year (it's Winter Solstice in the northern hemisphere), but for the USPS it goes down as anything but short. This past Monday (December 21) USPS delivered more than 300 million packages in one day — their biggest delivery day of the year! The unprecedented demand overloaded the USPS website and part of it went down on Monday, but that's story for another time.
If you were a precocious child growing up who asked your parents too many questions about how Santa and his elves were able to deliver all those packages down the chimney on Christmas Eve — we expect you are now a well-adjusted adult who still has an interest in all things logistics.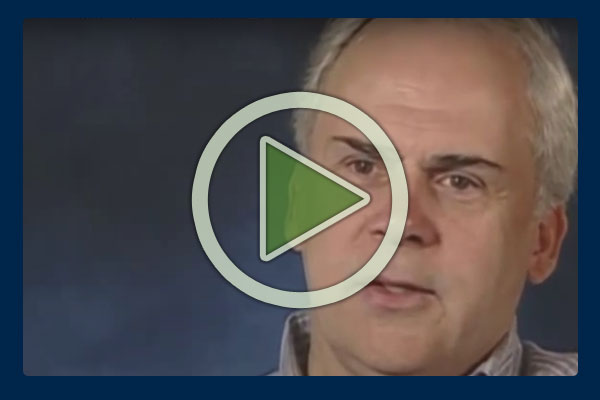 Fedex has grown enormously since it was founded back in 1971 by Frederick W. Smith. A former Marine, Smith helped shrink delivery times in global economy from days to hours — and we have become increasingly depend on overnight delivery as a result. Today the company has revenue approaching $50 billion and 300,000 employees across the world.
In the interview video above, Smith recounts how he didn't set out to create the giant fleet of aircraft and delivery vehicles that is the lifeblood of Fedex's world-wide delivery service; that was just a consequence of realizing the dream of overnight delivery across the nation, across the world.
Though it was founded much earlier — in 1907 in Seattle — UPS (formerly United Parcel Service) has gone toe to toe with FedEx.
While FedEx has its hub in Memphis, UPS Airlines cargo service ships overnight packages out of its "Worldport", based at the Louisville International Airport. UPS now has over 235 jet aircraft in service; its fleet roster includes Airbus A 300s, McDonnell Douglas MD11s and Boeing model 757, 767 and 747 aircraft.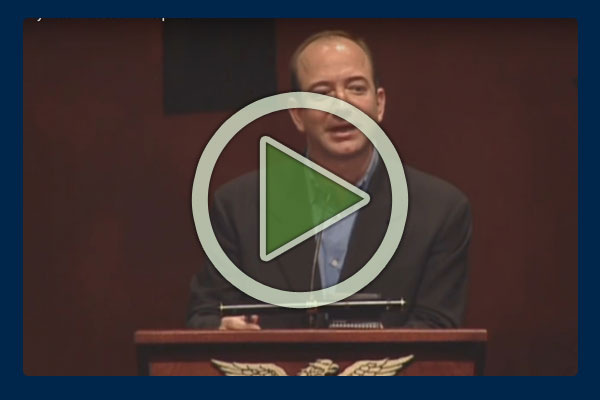 But the logistics to facilitate the delivery is only part of the equation. And one company has rewritten the rules for shopping: Amazon.
As we written about many times in the past, Amazon's innovations in logistics go far beyond what's publicly visible in their online shopping experience for consumers.
Did Amazon founder Jeff Bezos anticipate where Amazon would be today? It's fascinating to look at this 2001 interview (above) conducted just seven years after the company was founded.
In the following 15 years hence, Amazon has grown to become one of the most advanced, if not the most advanced, logistics companies in the world.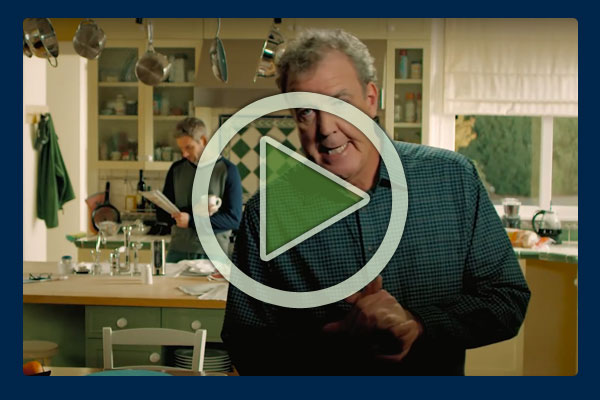 It's no longer just about books of course. Today's Amazon is a relentless competitor with local retail outlets across the board.
But — up until recently — your local retailer had one advantage over Amazon.com: if they had an item in stock at your local store, you could pick it up there today. Amazon couldn't deliver until tomorrow at the earliest. But that too is changing.
What if Amazon could fly your package in the warehouse to a landing pad in your backyard using a drone? Ex-Top Gear presenter, the bad boy Jeremy Clarkson himself, explains how it would work in the video above. Fortunately, Amazon delivery drones are a story from a Christmas future —  we won't have to worry about collisions between Santa and his sleigh and an errant Amazon drone making a last-minute delivery on Christmas Eve.
While the drones may be a flash publicity seeking stunt– who knows for sure — the rubber really meets the road in Amazon's ginormous fulfillment warehouses, like the Amazon operation in Tracy, California. Here, autonomous Kiva robots help perform the tedious task of product picking from the warehouse.
But the big news in 2015 for Amazon delivery is the rollout of their 1 and 2 hour delivery service in 20 major American metropolitan areas.
So perhaps next year, you can put off your Christmas gift shopping just a little bit longer.
Want Custom Furniture Built Just For You – Delivered Fast? Call Formaspace!
We've just launched our fifth generation of workbenches– Formaspace 5.0. Now you can get our top-quality, made-in-America workbenches starting at $450 — we build it just for you in just 5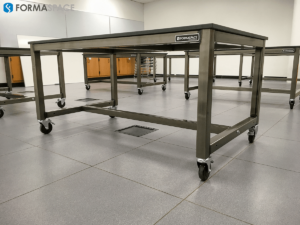 days here in our factory headquarters in Austin, Texas. Like all Formaspace furniture, it's backed by our famous 12 year, three shift guarantee.
And if you are looking for a signature piece of furniture for your office, conference room or open plan kitchen, give us a call. We can build heavy-duty, industrial quality furniture designs like counters, workstations and conference tables right here in the USA, at our factory headquarters in Austin, Texas.
We invite you to join the roster of satisfied Formaspace technical, manufacturing and laboratory furniture clients — including Apple Computer, Boeing, Dell, Eli Lilly, Exxon Mobile, Ford, General Electric, Intel, Lockheed Martin, Medtronic, NASA, Novartis, Stanford University, Toyota, and more. Give us a call today at 800.251.1505 to find out more about the Formaspace line of built-to-order computer workstations, industrial workbenches, laboratory furniture, lab benches and dry lab/wet labs — as well as our design / furniture consulting services.