There are many reasons why buying direct from the manufacturer can be beneficial to the consumer. It can help ensure the highest quality of product is produced or it can make communications between parties easier. We listed out 10 reasons why buying direct makes sense for you as a consumer! 
1. Eliminate the Middleman
Save time and money by purchasing custom workbenches direct from the manufacturer. Formaspace can often deliver twice as fast at the competition, with higher quality at a lower cost.
What is the Formaspace secret? We fabricate all our technical furniture at our factory in Austin, Texas using a local, American-based supply-chain. By sourcing local materials, like steel and hardware, we can respond to your order quickly. To assure quality, we manufacture each technical furniture order here at our factory, down to the last door and drawer. And, whether it's a computer workbench, lab table with a wet sink and hood, traditional steel casework cabinet or assembly line packing table, we take the time to assemble your entire order into complete pieces of furniture before shipment. This step helps ensure all the pieces fit together perfectly before it's delivered to you. Then we disassemble it again, carefully pack the components and ship it to your site.
If you elected our turn-key, on-site installation option, we'll send the same technicians who have already assembled it once to re-assemble it again at your location. This ensures quick, accurate installations. Many other technical furniture vendors use multiple overseas suppliers that ship batches of parts directly to you. If you order from this type of vendor, there may be long wait times for delivery. And you'll have to perform these quality assurance steps yourself to determine if their sub-contractors have shipped the correct parts if all the pieces are included and if the technical furniture fits together properly.
2. Get the Exact Custom Furniture You Want
Choose from our popular, easily, reconfigurable modular furniture designs or let us build fully customized casework furniture installations for your laboratory, hospital, factory or warehouse.
Can Formaspace create the classic look and feel of traditional casework furniture and install them in modern buildings? Can Formaspace also install flexible, modular furniture in older facilities that are retrofitted to current standards? The answer is: Yes and Yes! Formaspace customers take advantage of our unique capabilities as a manufacturer of ALL types of technical furniture. We offer the traditional style of wood or steel casework as well as the latest modular designs which offer easy re-configuration if your space usage needs change. (If you move to new facilities, modular units can be disassembled and re-assembled at your new site.)
If you are an architect, you should know that we offer highly customizable solutions for all categories of technical furniture, all fabricated in our Austin, Texas facility. We can match the design of existing furniture if you are expanding or remodeling an older facility, or we can help you realize new, entirely custom technical furniture designs, built to high-quality standards with quick turnaround times.
3. Expert Knowledge
We have the detailed industry knowledge and experience to supply the modern industrial furniture you need, whether you are remodeling existing facilities or constructing today's new, modern LEED-certified structures.
If you are building a new LEED-certified building or manufacturing facility from scratch, equipping a core and shell structure with a new research laboratory, or reconfiguring an existing repair facility to be more efficient and productive, please contact us. We have years of extensive experience in building and installing a wide range of technical furniture, including laboratory furniture and lab benches, tool benches with tool drawers, professional drafting tables, computer workstations and computer repair workbenches.
Design Consultants can suggest layouts and accessories used for similar projects and environments, or we can use your requirements to start a design from scratch. Because we also fabricate the furniture we sell, we have the experience and expertise on-site, ready to answer your questions quickly and efficiently. So whether you are looking for steel casework, wood casework or modular furniture, we have the in-house knowledge and full design capabilities at hand to keep your project on time while saving you valuable time and money.
4. Experience in the Furniture Industry
We have the experience to work on very large-scale projects and their complex technical documents, engineering drawings and statements of work. We understand the importance of project confidentiality during the bid and contract award phases.
Thanks to our extensive experience in technical furniture fabrication and installation, Formaspace can readily assist you with very large scale projects and build outs, whether you are starting from the core and shell in a new construction project or remodeling your existing facilities. We are a great resource for enterprise customers: architecture, engineering, and design (AED) firms with projects in the $100,000 to $2 million range. You do not need a lab specifier. If you happen to be working independently, it may not be necessary to engage an architect. We know how to organize and manage complex technical projects, from comprehensive statements of work down to the detailed engineering drawings.
You can also turn to us for help if your existing vendor is not meeting your quality requirements, scheduled delivery times or project milestones. Finally, we also recognize you may be in a government or military contracting or a competitive bid situation where you need to maintain strict confidentiality about your project, including the technical furniture component. We can help keep your project confidential through a continuous chain of custody, unlike a dealer or distributor that might take your bid and 'sub it out' by sending it overseas to multiple third-parties.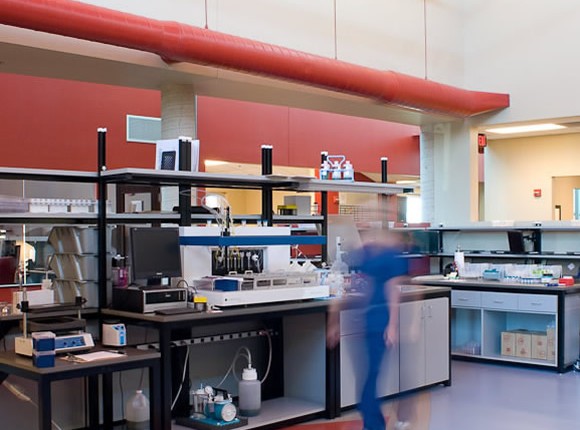 5. Fabricate Furniture with Any Design
Whether you are expanding your facilities or undertaking new construction or renovation, Formaspace can help you maintain business continuity by fabricating technical furniture that meets your requirements.
Formaspace will be here to service your technical furniture, industrial workbenches, packing tables or laboratory furniture needs for years to come. Because we source all our materials locally and build everything at our modern Austin, Texas facility, we can also provide the fastest delivery times in the custom technical furniture market. If you've ordered from us before, we keep all our electronic CAD drawings on file, so if you need additional parts or furniture pieces built to match, we'll be able to create whatever you need, such as new lab casework, modular furniture, safety cabinets or height adjustable benches. If we did not originally fabricate your existing furniture, Formaspace has the technical skills to match and reproduce your existing furniture or update your designs to meet current requirements. So when you are ready to expand your operations or remodel your existing facilities, please contact us.
6. One Single Point of Contact
Formaspace believes that straightforward communication begins and ends with a single point of contact for your technical furniture project.
A key advantage of buying directly from the Formaspace factory is our practice of establishing a single point of contact for simpler, faster communication. One of our Formaspace experts will work with you from the start to the completion of your technical furniture project, pulling in additional support as needed. We assist you from the initial planning, design and customization stages, to the fabrication and construction stages (including full assembly of your furniture order on our factory floor to assure correct fit and finish), to packing and shipping to your site.
We also offer optional turn-key installation of our technical furniture on your site, performed by Formaspace factory technicians. We believe that communication is improved with fewer intermediary people involved in a project. By working with us, you'll appreciate our proactive communication approach and problem-solving skills. Technical furniture is our business and we stand behind our products.
7. Superior Service and Fast Delivery
You get superior service and faster delivery (up to twice as fast as the competition) when you buy technical furniture direct from the factory, guaranteed.
Our customers are pleasantly surprised to learn how easy it is to order custom technical furniture direct from the factory. The process starts when you make an inquiry on our website and request a quote. Formaspace technicians will work with you to help find the most effective solution, whether it's traditional steel or wood casework or modern modular designs, for your technical furniture needs. Once your order is completed, we fabricate your furniture at our Austin, Texas facility using locally sourced raw materials. Using materials from a local supply-chain assures higher quality and more rapid turnaround times.
Your technical furniture order is actually assembled twice: the first time on our factory floor by Formaspace technicians to ensure that the fit and finish is up to our high quality standards. Then it is disassembled, packed and shipped to your site, where you install it together. Or, if you elect our turn-key installation option, we will send our Formaspace factory technicians to assemble it on your site for you. Assembling your order on our factory floor helps eliminate errors and costly delays. It stands apart from the common practices of other vendors who order pieces from all over the world and ship them to your site (without inspecting them first), leaving you to discover any missing pieces, incorrect parts or damaged goods.
8. Promises That You Can Count On
Because we build all our technical furniture our own American factory, we can make technical furniture delivery promises that we can keep.
We know what's going on at our factory because we're all co-located in the very same building. We can track your order because we manufacture your order on site. If there is a question, your Formaspace representative is literally just steps away from the fabrication area and can walk over to the shop floor to get answers to your questions, fast. Because we build our products at our factory in Austin, Texas, we aren't dependent on getting a product shipped from overseas to turn around and resell to you. So we are not at the mercy of overseas shipping delays, inventory errors or miscommunications from third-party suppliers who may or may not stay in the technical furniture business. When we agree to a delivery schedule, you can count on Formaspace to meet our promises.
9. Quality is Built in, Right at the Factory
Here are some key reasons why quality is built into Formaspace technical furniture:
Our name is on it.
You know where it's made.
You can visit the factory.
We service what we sell.
You can see and touch and feel the difference.
We use fully welded frames for increased durability and stability.
Powder coating increases service life by reducing corrosion.
Heavy-duty construction designed to withstand years of hard use.
High weigh load capacity options, including tables that hold more than 1,000 pounds. (We even landed a helicopter on our furniture!)
Formaspace products are designed to last generations.
We offer the best guarantee in the business.
And in the rare chance that something goes awry, we can make it right quickly. As the factory that built the furniture, we can supply an exact replacement if something becomes damaged or needs replacement for any reason.
10. We are a Customer Service Oriented Company
We want to establish a direct, long-lasting relationship with you, our customer.
At Formaspace, we're focused on you, our customer. We don't have any in-between distributors or outside sale agents to interfere with our direct relationship. We know for whom we are working, it's you. We realize you are making an important investment when you buy technical furniture, an investment that can last generations. That's why we put the care we do into each and every piece of furniture that we make. If we can help you be successful, then we know in years to come you'll come back to us when it's time to expand your facilities or build new ones. We'll be here for you.