Lab Researchers Study 7 Ways To Treat Ebola Virus
Following our article last week about the dangers of breaking the Ebola virus quarantine, things in Monrovia, Liberia took a turn for the worse as people raided the medical facility where Ebola patients were being treated. Looters walked away with medical equipment, patients' personal effects as well as hospital bedding — all of which have the potential of spreading the Ebola virus in the community and intensifying the epidemic. Yesterday WHO reported that three west African governments have set up quarantine zones.
Travel in severely-affected cities such as Gueckedou in Guinea, Kenema and Kailahun in Sierra Leone and Foya in Liberia is now restricted. While WHO has not yet recommended travel restrictions, Kenya Airways suspended service to Liberia and Sierra Leone this week and is no longer permitting passengers who have transited through Sierra Leone, Guinea and Liberia to board their aircraft.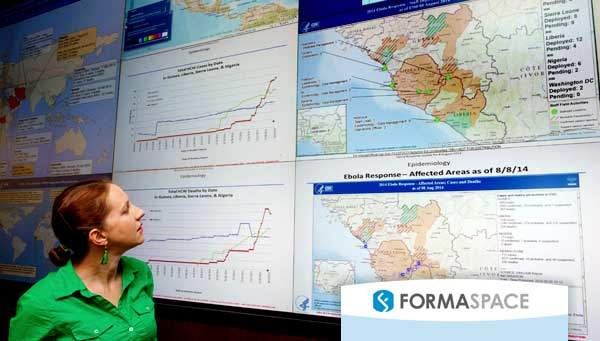 What is the Current State of Laboratory Research Funding for Ebola Virus Treatment?
To get a long-term perspective on the state of funding for laboratory research dedicated to finding a cure for the Ebola virus, we turn to Thomas Geisbert, Ph.D., Professor of Microbiology and Immunology at the University of Texas Medical Branch in Galveston. Geisbert, who has dedicated much of his career to seeking cures for highly-dangerous filovirus pathogens like Ebola, Marburg and Lassa, has had to be patient when seeking funding for laboratory research. "There's been no financial incentive for pharmaceutical companies to develop these countermeasures," Geisbert recently told the media. "It just comes down to dollars."
Thomas Geibert, Ph.D. gives a basic overview of Ebola research at UTMB According to Geisbert, the lack of private funding has meant that this type of laboratory research is wholly dependent upon government support. Yet dangerous pathogens, like Marburg and Ebola (the latter discovered only relatively recently, in 1976), didn't appear on the government's radar until after the terrorist attacks of September 11, 2001. These attacks led to widespread fear of the potential use of biological weapons — such as anthrax — and this concern spurred a wave of federally-funded bio-terrorism counter measures, including construction of a network of Biosafety Level 4 (BSL-4) laboratories.
With this emphasis on bio-terrorism after 9/11, the Federal Government also began funding Geisbert's viral laboratory research of Category A Select Agents — highly-dangerous pathogens with no known cure. Geisbert first began working on a potential Ebola vaccine at the U.S. Army Medical Research Institute of Infectious Diseases at Fort Detrick, Maryland. In October 2010, Thomas and his wife Joan Geisbert, who is herself also an internationally-recognized virologist also working on Ebola and Marburg viruses, moved to Galveston Island in the Gulf of Mexico to take advantage of the newly constructed BSL-4 Galveston National Laboratory (GNL) at the University of Texas Medical Branch (UTMB).
Despite concerns about bio-terrorism, funding for development of an Ebola vaccine or therapeutic treatment for the disease has not been constant.
For example, the Pentagon dropped funding in 2012 for laboratory research investigating the efficacy of the RNAi therapeutic drug known as AVI-7537, developed by Boston-based Sarepta Therapeutics as a result of the U.S. Government's notorious "Sequester" budgetary standoff. AVI-7537 had reportedly demonstrated a post-exposure 'cure' rate of 60-80% when administered to Ebola-infected rhesus monkeys. (Research paper results)
Ramped Up Efforts to Fund Laboratory Research of Filoviruses, Including Ebola
The tide has since reversed. U.S. Federal Government support for laboratory research on viral pathogens began to increase rapidly in 2014. In this current year NIH will pay out grants totaling north of $61 million dollars for laboratory research related to filoviruses (such as Ebola, Marburg, Lassa, Sudan and Bundibugyo) as well as arenaviruses (such as Lujo, Machupo, Junin)
Two Large Research Projects Have Been Funded for Five Years Each
The first of these is a five-year 'mega' grant totaling $28,439,280 for Thomas Geisbert's research at UTMB. This ambitious set of related research projects — operating under the name The Advancement of Treatments for Filovirus Infections Center — will investigate three potential Ebola vaccines / therapeutic treatments. We'll look at each of these three laboratory research projects in detail in a section below.
The second NIH 'mega' grant, which totals $23,518,250 over a five year period, was awarded this past March to a research consortium of fifteen institutions, led by Erica Ollmann Saphire, Ph.D., Professor at The Scripps Research Institute (TSRI). The focus of Ollmann Saphire's research is structural analysis of these filoviruses that cause hemorrhagic fevers. She wants to determine the exact structure and function of each protein encoded by these viruses during their complete life-cycle. It's hoped this will in turn provide useful insight into ways to completely disrupt viral replication. Other participants in the Scripps' laboratory research consortium (and their share of the $28,439,280 master grant) include:
Kartik Chandran of the Albert Einstein College of Medicine at Yeshiva University in New York. Chandran serves as co-director of the mechanistic virology core for this project and his lab will receive $3,805,835 over five years.
Robert F. Garry, Ph.D. of Tulane University will oversee a $5,075,350 five year grant to develop therapeutic monoclonal antibodies that are effective against several of the most pathogenic filoviruses, as well as to identify antibodies effective against more than one strain of filovirus.
Jonathan Lai, Ph.D., D.V.M. of Albert Einstein College of Medicine at Yeshiva University, New York will manage a $4,508,675 grant to support research of Antibody phage display methods to improve identification of suitable monoclonal antibodies as well as analyze their interaction with antigens. Lai's lab is also researching how to prevent viruses like Ebola and HIV from entering cells by disrupting the virus' envelope glycoprotein surface before it can create a six-helix bundle hemisfusion intermediate used to bind to the host cell.
Larry Zeitlin, President of Mapp Biopharmaceutical, based in San Diego, will oversee a five-year $5,969,850 grant to further development of their ZMAPP Ebola treatments which we wrote about in an earlier article.
Seven Different Approaches to an Effective Treatment of Ebola
By our count, there are at least seven different approaches currently being researched in laboratories to either prevent the spread of the Ebola virus with a vaccine or control its life-threatening health effects post contact. We list each of them below.
A note on the order we have listed these laboratory projects: The NIH Grant for Thomas Geisbert's Advancement of Treatments for Filovirus Infections Center is supporting research for approaches 1, 2 and 3 so we have grouped these three together. Item 4 is tangentially related to item 3 (both being RNA-based approaches). The remaining items are listed at the end in no particular order, but we are in no way implying these are lesser projects.
1. Laboratory Research for Recombinant Vesicular Stomatitis Virus (VSV)-Based Therapeutic Vaccine
This approach is based on genetic manipulation of a virus found in livestock (vesicular stomatitis virus or VSV). One of the VSV genes is removed and replaced with the surface glycoprotein from the Ebola virus. The technique was pioneered by Heinz Feldmann at the Public Health Agency of Canada (PHAC) in Winnipeg. This approach was found to be a very effective vaccine (prophylactic) during animal testing of rhesus macaques exposed to the Zaire variation of the Ebola virus, and a partially effective post-exposure therapeutic treatment. Geisbert at UTMB is a co-investigator working with Profectus BioSciences in Tarrytown, New York on a similar vaccine; human trials are hoped to start within 12 months.
2. Laboratory Research for Fully Human Anti-Filovirus Monoclonal Antibodies
Identifying and refining naturally occurring antibodies found in humans is the prime focus of the $28 million NIH funded grant led by Ollmann Saphire (see above). The ZMAPP Anti-Ebola cocktail drug, created by Mapp Biopharmaceutical Inc., falls into this category. As you may recall, ZMAPP was administered to two American missionaries now undergoing treatment at Emory University Hospital in Atlanta. Geisbart is investigating the efficacy of this drug cocktail in primates in the research laboratory. However, to date, there have not been any formal human studies using this monoclonal antibodies approach.
3. Laboratory Research for Anti-Filovirus Small Interfering RNAs (siRNA)
A portion of Geisbert's NIH grant is supporting laboratory research of a drug compound candidate — TKM-Ebola — developed by Tekmira Pharmaceuticals Corp., based in Burnaby, British Columbia. This drug, which relies on RNA interference to disrupt the Ebola virus life-cycle, had initially been scheduled for human drug trials starting earlier this year. However the FDA put the phase 1 trial on hold this past July 3rd. According to the latest reports, the testing safety issues which gave the FDA pause have already or will be resolved shortly, allowing this compound to begin human trials later in 2014. If successful, Tekmira reportedly has a Pentagon contract worth up to $140 million to produce the drug.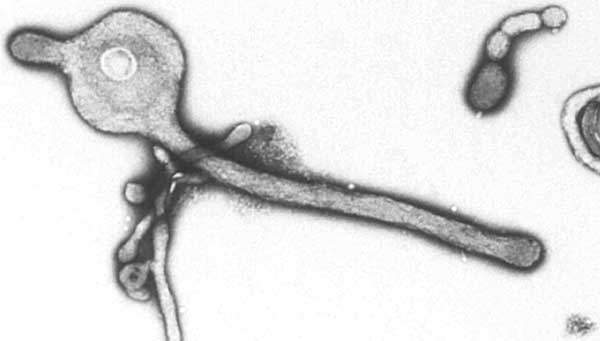 4. Laboratory Research for Antisense Phosphorodiamidate Morpholino Oligomers (PMO)
Earlier we mentioned the 2012 funding sequester that shutdown laboratory testing of the AVI-7537 antisense-based compound being developed by Cambridge, Massachusetts-based Sarepta Therapeutics. Like the previous approach, the anti-Ebola drug AVI-7537 (and its sister compound AVI-7288, which attacks the similarly structured Marburg Virus) interrupts the RNA replication process. In this case, an antisense drugs works by binding to the messenger RNA, which can't translate (e.g. duplicate) viral genes because it's encumbered by the drug compound attached to it. As a post-exposure therapeutic, AVI-7537 reportedly had a cure rate in the laboratory of 60 to 80 percent among Ebola-infected rhesus monkeys. Sarepta Therapeutics is trying to restart laboratory research on its drug compound and has offered its existing stock for experimental use on persons affected by the Ebola virus, subject to governmental approval.
5. Laboratory Research for Adenovirus-Based Vaccines
The British drug giant GlaxoSmithKlein (GSK) has stepped into the anti-Ebola drug research arena through its recent $335M USD acquisition of the Swiss pharmaceutical company Okairos, which has been developing an adenovirus-based vaccine against Ebola. According to GSK, they are hoping for a fast-track approval by the U.S. Food and Drug Administration (FDA) to start early-stage human trials as early as the fall of 2014. Crucell Biopharmaceutical, a division of Johnson & Johnson, has also been pursuing an Ebola and Marburg vaccine since at least 2005. It is understood that their approach also utilizes adenoviral vectors, used to express Ebola antigens that confer an immune response to the virus. Press reports indicate Crucell could enter early-stage human clinical testing in late 2015 or early 2016.
6. Laboratory Research for Rabies Virus Vaccine
NIH's National Institute of Allergy and Infectious Diseases (NIAID) Division of Intramural Research is supporting laboratory research by Thomas Jefferson University to determine if an effective Ebola vaccine candidate can be developed from established rabies vaccines. Laboratory researchers say they have demonstrated that rabies vaccine has conferred protection from Ebola infection in laboratory test animals. If this approach is successful, the goal would be to produce an inactivated version of the vaccine for human use and a live vaccine for use in wildlife in Africa. The latter would help prevent the Ebola virus from being transmitted from animals to humans.
7. Laboratory Research for Nucleoside Analog
Last but not least: The U.S. Army Medical Research Institute of Infectious Diseases has developed a small molecule called a nucleoside which can interrupt the virus' DNA synthesis process. The nucleoside drug enters the cell, where it is phosphorylated. Once in this form it's now similar enough (hence the moniker 'analog') to a nucleotide that it gets picked up by the growing DNA strands undergoing duplication (aka DNA Polymerase). With the right drug design, the drug agent can act like 'grit in gears' — stopping the DNA replication process. Unfortunately this nucleoside analog approach has been known to cause serious side effects when treating other diseases — like cancer and HIV — due to the fact it can also harm non-viral DNA as well as mitochondrial DNA. In some cases, side effects have required extreme countermeasures, such as bone marrow transplants.  
Formaspace is Serious About Laboratory Safety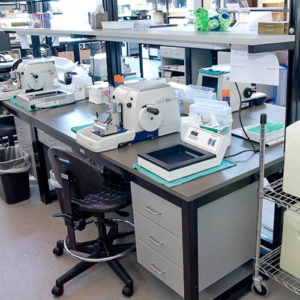 At Formaspace, we know the importance of laboratory safety. We believe it's important to keep you and your lab partners safe while you work — by creating a clean, comfortable well-designed facility. Do you agree? If so give us a call at 800.251.1505 to learn more about our stock, semi-custom and custom-made laboratory furniture lines, including lab benches, workbenches and dry lab/wet labs.
We also provide laboratory design / furniture consulting services. So whether you are building a new laboratory or updating an existing one, give us a call today.