Offshore Technology Conference (OTC) Sets New Records
If you've been keeping up with our calendar of industry events, you know that last week's Offshore Technology Conference (OTC) held in Houston is one of the largest trade events in the U.S. In fact, this year's OTC, now in its 45th year, expanded to over 680,000 square feet of exhibit space. And a record number of people attended OTC this year — over 180,000 attendees, which broke the previous record set in 1982. The show was so successful that organizers announced a new companion event, called D5, which will feature discussions by the prominent industry leaders on the future of the offshore industry. Make plans now for D5, to be held May 8, 2015.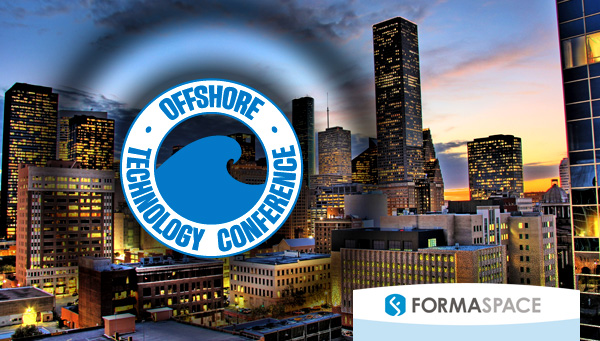 The OTC event conference brings together an improbably diverse mix of energy companies, government officials, executives and engineers across the full spectrum of the energy sector. The first thing that may catch your eye is the international aspect. As you enter the hall, you'll see bold graphics announcing the presence of many of the leading energy producing nations, such as Norway, Brazil, Mexico and Scotland.
They all have invested in top-notch presentations that showcase the breadth of their energy production initiatives in one-stop shopping pavilions. And shop they do!  Given that Barclay's annual industry survey estimates that the energy industry's Exploration and Production (E&P) expenditures in 2014 will exceed $720 billion (up 40 billion from 2013), there's no question that there's a lot serious shopping and deal-making going on. The tone at the show is strictly business — in many cases people have traveled from the other side of the globe to make deals.
What's on Offer at the OTC? Hardware Plus Financial and Human Capital
The range of hardware on display is impressive. Offshore E&P demands a lot of gear to find and extract oil and gas up to a mile or more below the ocean surface, so you'll see everything under the sun on display — from giant cranes, to floating emergency escape devices, to incredibly large and complex hydraulic pumps. The largest of these items that can't fit in the hall are on display outside in the parking lot (next to the old Houston Astrodome). But there's a lot more to energy exploration and production than just hardware and gear. To successfully extract and transport oil and gas from a drilling zone (or 'play' as it's commonly referred to in the industry) requires bringing together a wide mix of disciplines and job functions.
These range from government contract negotiators, financiers and bankers, project managers,  team leaders and workers in almost every trade, to scientists and engineers. In just the scientific and engineering realm alone, experts in geology, hydrology, materials science, fluid dynamics, naval architecture, deep sea marine operations, seismic data analysis, computer data modeling, electronics communications, transportation logistics, safety engineering, equipment testing and sensor monitoring are represented in force. Financing for capital expenditures is another major component of OTC, but these kind of negotiations naturally take place behind the closed doors of the discreet private offices found within the larger trade-show pavilions on the event floor, off the show floor at private whisper-suites or out on the greens during exclusive golf tournaments organized by OTC.
Post-Macondo Era: The Industry Byword is Safety
It's been more than four years since the Deepwater Horizon oil spill in the Gulf of Mexico southeast of New Orleans. This tragic incident, usually referred to as the Macondo wellhead blowout by those in the industry, still resonates today. Now in the post-Macondo era, the task of ensuring safety and managing engineering process controls weighs heavily on everyone in the offshore energy production sector.
Brian Salerno, director of the Bureau of Safety and Environmental Enforcement, and the U.S. Coast Guard's assistant commandant for prevention policy, Rear Adm. Joseph Servidio made a presentation to industry managers how the government plans to step up its game in safety oversight. As a concrete example, Servidio announced the Coast Guard will begin to conduct unannounced, surprise inspections of oil and gas industry vessels.
Adopting Safety Culture from the Aeronautics Industry
According to Salerno, "Safety culture is very much a company-specific thing at this point. We're a long way from saying there's widespread adoption of safety culture in the industry." Salerno said his bureau will be ramping up efforts to zero in on risky operations and problem prone companies using a risk-based analysis approach.
This approach is not unlike that of the FAA, which has a long history of ensuring safe operations in the skies. Salerno said his bureau will put together what he termed a "near-miss" reporting system, which will require offshore oil and gas producers to notify his agency of any narrowly averted accidents. This type of information is crucial to help identify potential safety risk factors across the industry. A similar approach at the FAA has been instrumental in helping assure aviation safety.
NASA's Role is Not Just in Deep Space, But Also in Deep Ocean
Speaking of aeronautics, Former astronaut Mike Bloomfield, who now works for Raytheon as part of a contract with NASA, presented a report on NASA's Neutral Buoyancy Laboratory (NBL) at the Johnson Space Center in Houston. Bloomfield says this facility, which is available for commercial hire, is ideal for system integration testing of equipment destined for offshore underwater use. The tank, which contains 6.2 million gallons of water — at a depth of 12 meters — is the next best thing to testing offshore in the ocean.
Separately, it was announced that NASA is also hosting a unique Underwater Helicopter Escape Training (UHET) safety course at their Neutral Buoyancy Laboratory testing facility. This course, conducted by Hi-Con, provides offshore oil and gas workers with hands-on training to help them survive a helicopter emergency landing in the waters of the Gulf of Mexico. As part of the training, a realistic mock-up helicopter is submerged in the 12 meter deep pool from an overhead crane. Trainees learn how to make a successful underwater exit from the downed aircraft, operate lifeboats and rafts, manage cold water shock and administer first aid.
Simulators Were a Big Crowd-Pleaser at OTC 2014
Speaking of simulators, there were three additional different types of simulations that really caught the attention of OTC attendees. The first was the MH OCH 300 Operator Chair, brought to the show floor by Aker Solutions, whose offshore drilling rig training facility is located in Katy, Texas just west of Houston. Attendees stood in long lines to get a chance to sit in the catbird seat and play the role of the rig operator. Outside of a public demonstration like this not many people get the chance to visit a real 'driller's cabin' –also known as the 'doghouse' — on an offshore rig floor. The simulator was great fun, and it got the attention of Hollywood film director Michael Bay who was attending OTC; he contracted to get one for his next edition in the Transformers movie franchise: Transformers: Age of Extinction.
The second simulator that caught the crowd's attention was Halliburton's Cypher oil production reservoir model computer software program. This clever software, which first came to market in 2013, can create three dimensional models of recoverable reservoirs in a matter of minutes— work that used to take engineers a week or so to map out. The final kind of simulation that had attendees at OTC talking was not nearly as high tech, but nonetheless just as compelling.
What was it? The answer: 'Old School' scale models. Attendees couldn't get enough of these scale models! Throughout the show, attendees marveled at the detail of miniature models of jack up rigs, floating submersible rigs and ships of all sizes. But the scale model that stole the show was on display at the Sinopec pavilion. The show exhibition team at Sinopec, the Chinese energy conglomerate, had crafted an enormous scale model of oil field production facilities, including both offshore and onshore elements and installed it within their pavilion. Visitors were captivated by all the detail, right down to working 'rocking horse' pumpjacks.
If You're Part of the Energy Sector, Give Formaspace a Call
It's hard to paint a picture of all the things to see and learn about at the OTC in just one short article. The same could be said for Formaspace. We offer a broad range of technical furniture: from industrial workbenches, drafting tables, casework, computer workstations, laboratory benches to fully custom creations designed just for you. If you're building a new facility or updating an existing one, we have a lot of expertise to share. Join our hundreds of satisfied customers.
Take the first step to learn about us and we'll share our expertise on how you can make your facility and team more productive. Give us a call at 800.251.1505 — we stand ready to tell you all about our all American-made furniture. Everything we make is fabricated and assembled right here at our headquarters in Austin, Texas.