Breaking the Ebola Quarantine Puts Nigeria at Risk
Concerns About the Ebola Outbreak Have Risen Dramatically Now That the Disease Has a Toehold in Africa's Most Populous Country — Nigeria.
During earlier outbreaks of Ebola, public health officials and epidemiologists were able to tamp down the spread of the virus in large part because the affected communities were so isolated. Because there used to be such minimal lines of contact between affected communities in Africa, strict quarantines were an effective control technique for eliminating earlier outbreaks of the Ebola virus — a remarkable feat considering there was no widely available treatment for the disease.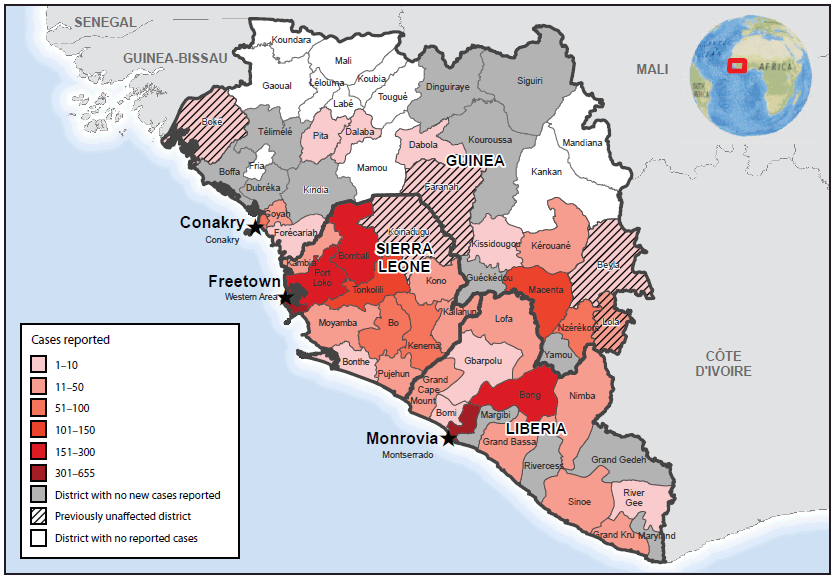 On the day that we posted our last article, the World Health Organization declared that the current outbreak of the Ebola virus in West Africa is a matter of international concern.
Dr. Margaret Chan, Director General of the World Health Organization
Ebola Quarantines are Not Working as Effectively as They Have in the Past
The major reason? The economic fortunes of Africa have changed dramatically over the last 10 to 15 years — generally for the better. In fact, there's been a veritable race by Chinese, European and American multinationals to secure natural resources for extraction. Major investments have been made in minerals mining as well as oil and gas exploration and production. This in turn has dramatically increased commerce across the region, resulting in a strong surge in business travel between the growing African commercial centers.
But this dramatic increase in travel and commerce across the continent has wreaked havoc on the ability of public health officials to use quarantines to control the Ebola outbreak in this current epidemic. This past July, the Ebola disease outbreak in Liberia literally flew in a commercial flight over four countries — Ivory Coast, Donna, Togo and Benin — to land in Lagos, Nigeria, the capital of Africa's most populous country.
Nigeria's Patient Zero: Patrick Sawyer
The tragic story of Nigeria's "Patient Zero" — the late Patrick Sawyer, a 40-year-old naturalized American citizen — illustrates the difficulty of relying on quarantine procedures to limit the outbreak. Mr Sawyer was an Liberia-based employee of ArcelorMittal, which, according to their website, is "the world's leading integrated steel and mining company." They have a presence in more than sixty countries. According to internal ArcelorMittal reports, Mr Sawyer's sister died in Liberia from Ebola virus on July 8th.
Even though Sawyer had minimal contact with his sister, his employer ArcelorMittal followed Liberian Ministry of Health guidelines and put Sawyer on paid administrative leave so he could enter a 21 day period of isolation (the presumed incubation period for Ebola), during which he was to undergo daily monitoring for signs of the disease.
Sawyer Skipped Ebola Quarantine to Attend an Economic Conference
However, Sawyer did not stay in voluntary quarantine. Instead, in the meantime he had received clearance from the Liberian Department of Finance to travel to Nigeria for a conference organized by the Economic Community of West African States (ECOWAS) According to the Liberian newspaper, The New Dawn, a review of closed-circuit television footage from the Monrovia airport showed images of Mr Sawyer boarding an Asky Airline flight to Lagos on July 20. In the surveillance video, it was reported that Mr Sawyer looked unwell and appeared to be in severe pain. During the flight, he fell severely ill and upon landing at the Murtala Mohammed Airport, he was taken to the First Consultant Hospital, Obalende in Lagos. Despite his illness, officials from the hospital said in a prepared statement that they had to resist pressure from Liberian officials to discharge Mr. Sawyer, in order that he could still attend the ECOWAS conference in Calabar, Nigeria.
Four days later Sawyer died from Ebola Virus at First Consultant Hospital.
The frustration by Nigerian health officials was palpable. This past Monday, Nigeria's Health Minister, Onyebuchi Chukwu, made a public statement that acknowledged they had received an apology from the Liberian Government. But Chukwu then went on to vent his frustration that his country Nigeria, which had been free from infection, now faced an enormous task of controlling the Ebola virus. To date, 10 cases of Ebola have been confirmed in Nigeria by the government. According to Chukwu, the most recent case is a female nurse who came in contact with Sawyer at the First Consultant Hospital.
Update From Emory Hospital's Isolation Unit for Infectious Diseases
Meanwhile, here's a quick update on the two American Ebola patients undergoing treatment at Emory University Hospital in Atlanta: Nancy Writebol, 59, continues to improve and she has been reunited with her husband David, who successfully passed a quarantine and has been declared free of the Ebola virus. Dr. Kent Brantly has also improved. He issued a lengthy statement expressing his belief in the missionary work he was performing at the ELWA Hospital in Liberia.
In an effort to tamp down widespread public criticism against bringing the two American patients from West Africa to mid-town Atlanta for treatment, Emory Healthcare's Chief Nurse — Susan Mitchell Grant, RN — issued a very strong public letter defending Emory's healthcare mission and the important role they play in medical research needed to secure public health threats like the Ebola virus.
The Public Affairs Department at Emory Went Into Overdrive
Dr. Alex Isakoff, Executive Director for Emory University Hospital's Office for Critical Event Preparedness and Response, continued his media appearances with a long interview on Bloomberg's BusinessWeek television.
Bruce Ribner MD, an epidemiologist at the Emory University School of Medicine, also spoke at the press conference (in the video above) to explain the high security measures in force at Emory's Serious Communicable Disease Unit. The hospital also issued a diagram showing a portion of the Serious Communicable Disease Unit (isolation unit) at Emory University Hospital (See illustration below).
The facility, which was built in conjunction with the CDC, has been used in previous outbreaks of highly dangerous pathogens such as the SARS outbreak and MERS. According to Ribner, the original intended function of the Serious Communicable Disease Unit was  to serve as an isolation unit in support of CDC personnel who may have possibly contracted dangerous infections through their work — either at CDC's Atlanta area research labs or while on remote field assignments, such as those the CDC is currently conducting in Africa.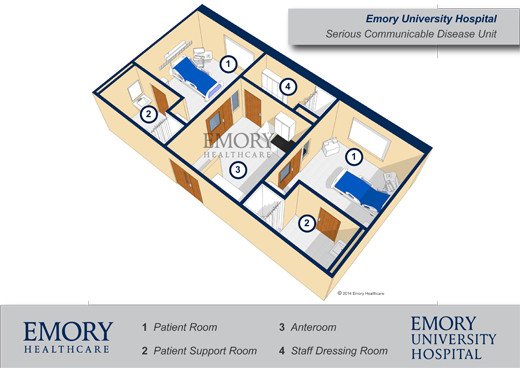 The high security facility was opened in 2004 on the ground floor of Emory University Hospital's General Clinical Research Center in mid-town Atlanta. The unit has three beds in total. The diagram above illustrates just one of the three beds in the facility. In this wing, a patient is treated in the room marked (1). Surrounding the patient are several ancillary support areas. Family members can see the patient through a highly protected glass window. Microphones and speakers allow for communication. Air circulation is tightly controlled and specially filtered in a separate, isolated HVAC system.
Finally, Emory University Hospital's CEO Robert "Bob" Bachman took to the television airwaves to announce his unwavering support of the treatment of the two American patients who contracted Ebola while performing missionary work in Africa. "We are absolutely confident that our policies, our procedures, our structure, our containment unit are such that the virus will not get out into the rest of the hospital or anywhere else," Bachman said. To underscore his confidence in his facility's ability to contain and treat the contagion, Bachman says he has set up his command room just outside the Serious Communicable Disease Unit so he can monitor daily progress. He said has "zero anxiety" about being so close to the patients under treatment.
Next week we will look at the Laboratory Researchers working on vaccines and therapy treatments for Ebola and other related viruses under an NIH grant issued this past March.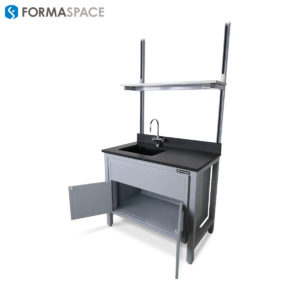 At Formaspace, we take laboratory safety very seriously. If you agree, you should give us a call at 800.251.1505 to learn more about our full line of stock, semi-custom and custom-made laboratory furniture, workbenches, lab benches and dry lab/wet labs — as well as our laboratory design / furniture consulting services.
We encourage you to join our roster of satisfied technical, manufacturing and laboratory furniture clients — including Apple Computer, Boeing, Dell, Eli Lilly, Exxon Mobile, Ford, General Electric, Intel, Lockheed Martin, Medtronic, NASA, Novartis, Stanford University, Toyota and more. Give us a call today.