Race Against Time: Anti-Ebola Serum Flown to US
Since our first article in a series touching on safety lapses at laboratories operated by the Centers for Disease Control and Prevention (CDC) appeared last week, the Ebola virus outbreak in western Africa has escalated to become a 24×7 global news story. We now provide you with an overview of the fast moving events that have occurred during the past week.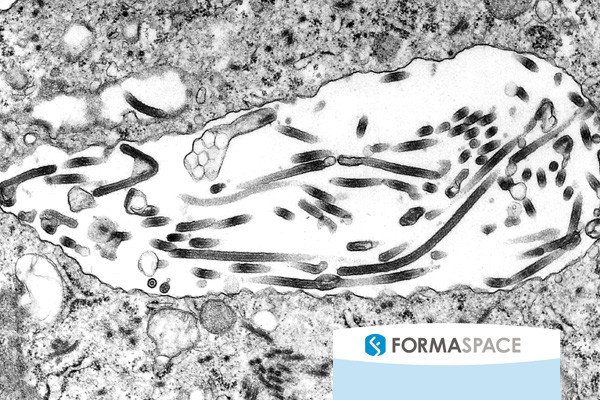 Ebola Outbreak in Western Africa
In the worst outbreak of the disease since it was first discovered 38 years ago, the Ebola virus outbreak centered in Liberia, Sierra Leone and Guinea is reported to have infected over 1300 people and killed more than 730, according to the World Health Organization. In total, over 2,300 Ebola virus deaths have been recorded since 1976.
Ebola's Symptoms Mirror Ordinary Flu… at the Beginning
The Ebola virus does not spread until the person begins to show symptoms; this typically takes 2 to 21 days. The lengthy incubation period before symptoms appear has ratcheted up the fear factor –because it's long enough for infected persons to travel across the globe before they show signs of the virus. And, because the Ebola virus first presents itself with ordinary flu-like symptoms–  fever, headache and loss of appetite — it's hard to differentiate it at first from other ordinary flu viruses.
This has led to public hysteria in New York City over the weekend, when a patient with flu-like symptoms was rumored to actually be infected with Ebola. At this moment, the case is still unresolved but most health experts do not expect Ebola to be implicated in the NYC case. After the flu-like symptoms appear, the Ebola disease then takes a terrible turn: patients experience blood clots, internal bleeding, vomiting and diarrhea. A skin rash breaks out. Blood can seep out from the eyes, nose or mouth. Patient that die from Ebola usually succumb to shock or multiple organ failure.
Fear of the Plague
Like the Black Plague in the Middle Ages, Ebola causes a hemorrhagic fever that is the stuff nightmares are made of.
"This outbreak is moving faster than our efforts to control it. If the situation continues to deteriorate, the consequences can be catastrophic in terms of lost lives but also severe socioeconomic disruption and a high risk of spread to other countries."
Dr. Margaret Chan, Director-General of the World Health Organization
The American Patients
In the past few days, the world's attention has focused on two American missionaries who have contracted the disease. Nancy Writebol, 59, along with her husband David, has been a missionary for 15 years in Ecuador, Zambia and most recently in Liberia. Working as a hygienist in a hospital, Writebol's mission work for Service in Mission (SIM) is sponsored by her church, Cavalry Church in Charlotte, North Carolina. Dr. Kent Brantly, 33, married to wife Amber, is a general physician, trained in Fort Worth with ties to Texas and Indiana. As part of his missionary work for Samaritan's Purse, he apparently contracted the virus when attending to Ebola patients at the same Liberian hospital where Writebol worked.
Diminished Trust in Science and Institutions
Distrust of both scientific laboratory research and Western medical institutions is playing a pivotal role in this epidemic. The populations of Western Africa are asking themselves how and why the Ebola virus outbreak has come to their countries when earlier outbreaks were centered far away in central Africa.
In many cases, they find it more reasonable to put the blame for the Ebola epidemic on the recent increase in the number of Europeans and Americans visiting their countries, including Western-trained doctors, scientists, missionaries, energy company executives and oil and gas workers. Some also take note of the CIA's regrettable operation in Pakistan to track down Osama bin Laden through a fabricated polio vaccination campaign as evidence that any scientific explanations presented by Western officials are to be considered suspicious — if not outright falsehoods.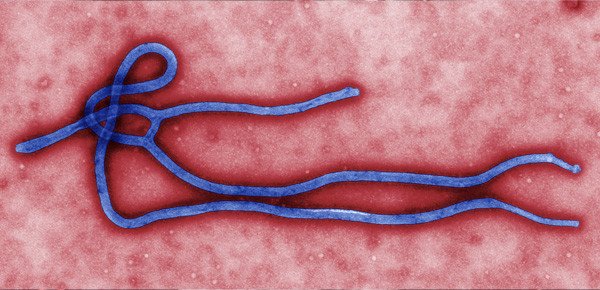 In contrast, Western infectious disease epidemiologists expect to uncover a much more prosaic explanation for the march of Ebola virus from Central Africa to the western African coast. They point to an extreme drought in sub-Saharan Africa over the past several years as the probable root cause for suspected disease vectors, like African Fruit Bats, to have shifted westward. In the minds of Western scientists, the common source of Ebola infection centers around the bush meat trade.
Bush meat, the common term for wild game– such as fruit bats, rabbits, or other small animals that are smoked and sold in local markets — provides much needed protein to populations where domesticated animals are too expensive or not available for purchase. Those handling, butchering and cooking bush meat are at the highest risk for Ebola infection as they can become infected by the small game animals that carry the Ebola virus. Many Africans scoff at this explanation. Bush meat is still widely prepared and sold in markets. And if they can't eat bush meat, what source protein could they afford to eat? Lack of trust in scientific and medical institutions is not limited to the citizens of African nations, however. Here in the United States, angry, agitated citizens have called into talk radio programs and mounted Twitter campaigns seeking to bar Ebola patients from entering the country.
Secret Lab Formula for Anti-Ebola Serum: Is it a Miracle Cure?
Once again we want to emphasize we are not making light of the very serious situation surrounding the Ebola epidemic. However recent news developments have an uncanny similarity to the deus-ex-machina plot twists of a Hollywood suspense thriller. Enter Rev. Franklin Graham, son of famed evangelist Rev. Billy Graham. Franklin Graham runs Samaritan's Purse, a non-denominational Christian charity based in Boone, N.C., which, as you may recall, employs Dr Brantly at the hospital in Liberia. It has been reported that Samaritan's Purse made unofficial contact with the National Institute of Allergy and Infectious Diseases, part of National Institutes of Health (NIH) and was thereby able to facilitate acquisition of a heretofore undisclosed anti-Ebola serum, called ZMAPP, under development by San Diego-based Mapp BioPharmaceuticals.
Mapp BioPharmaceuticals revealed it has been working with Toronto's Defyrus Inc., the Canadian Public Health Agency and the U.S. Government to develop the anti-Ebola serum. The drug itself is processed using tobacco leaves by Kentucky BioProcessing, (a subsidiary of Reynolds American Inc.) in Owensboro, Kentucky. A small quantity of the experimental serum was provided to Emory University Hospital in Atlanta, for the treatment of Dr Brantly and Nancy Writebol.
Race Against Time
With the experimental antivirus serum in hand, it was a race against time to fly the medicine across the Atlantic to treat patients Brantly and Writebol in time. Maddeningly, upon arrival, the serum had to be carefully defrosted for hours (without applying external heat) until it reached room temperature before it could be used. At first Brantley had insisted Writebol take the first defrosted dosage, but suddenly his illness took a turn for the worse. And so it was reported that Brantly was administered the first dose, along with a blood transfusion of one of his former patients, a 14-year-old boy he himself had earlier treated for the Ebola virus.
It was hoped that the transfusion of blood from this young boy, a former patient who had beaten back the disease, would give Brantly's immune system an extra boost of antibodies as he lay in the hospital bed fighting his life.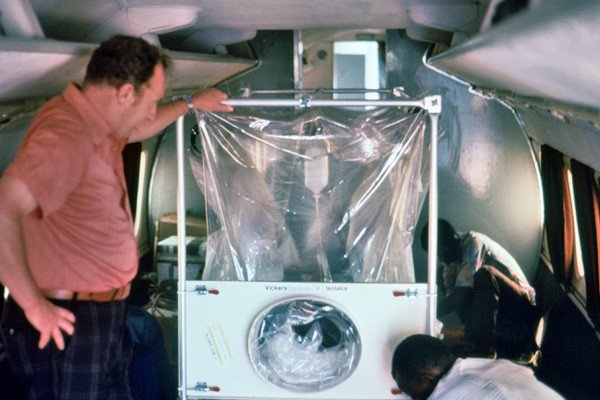 Journey to America
Miraculously, Brantly's condition took a turn for the better after the ZMAPP serum treatment and the blood transfusion. Writebol's condition improved notably as well after she received her dosage of the serum. Now it was time to transport these two Americans to Emory University Hospital in Atlanta. A special air ambulance plane was sent. It was reported that Brantly's strength had improved to the point he was able to stand on the airport tarmac before boarding the aircraft equipped with a special patient isolation chamber. Capacity of the plane's isolation chamber? Just one patient.
That meant Writebol would have to wait for the plane to make the trip to Atlanta with Brantly alone before it could return to pick her up on a second trip to Emory University Hospital. Alexander Isakov, Executive Director for Emory University Hospital's Office for Critical Event Preparedness and Response met the aircraft with a specially-designed ambulance, also equipped with its own patient isolation chamber. Isakov reportedly said they have been conducting drills for the last 12 years to be prepared for treating patients with highly infectious diseases like Ebola virus, so they are confident in their advanced preparations for Brantly and Writebol's arrival this week.
Formaspace is Here For You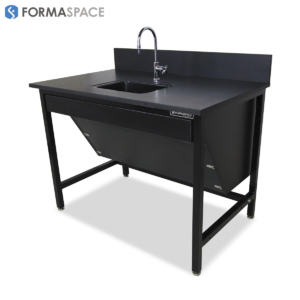 As we write this, both Brantly and Writebol are undergoing treatment at Emory University Hospital, and are reportedly showing signs of improvement. In our next article, we plan to take a look at the comprehensive planning that went into the construction of Emory University Hospital's infectious disease isolation unit, as well as return to the discussion of how the CDC is addressing a recent series of laboratory errors at some of the select agent bio-security laboratories under CDC management. In the meantime, we want you to know we take laboratory safety very seriously.
We encourage you to join our clients — like Apple Computer, Boeing, Dell, Eli Lilly, Exxon Mobile, Ford, General Electric, Intel, Lockheed Martin, Medtronic, NASA, Novartis, Stanford University and Toyota. Call us at 800.251.1505 to learn more about our full line of stock, semi-custom and custom-made laboratory furniture, lab benches and dry lab/wet labs — as well as our laboratory design / furniture consulting services.