5 Design Constraints That Influence Furniture & Interior Design in 2014
Now that the heat of July has finally arrived, summer is truly here. Yet, at the same time, it's hard to believe we've already passed the halfway mark on the 2014 Formaspace Exhibition Calendar.  So now seems like a good time to assess and distill what we've learned from 2014's major architecture, contract furniture design and interior furnishing shows around the world. These include the Neocon contract furniture show and American Institute of Architects (AIA) convention, both held last month in Chicago; the series of NYCxDESIGN events, including the International Contemporary Furniture Fair (ICFF) held in New York City in May; Dwell on Design in Los Angeles, also held in May; and Italy's Milan Design Week, which took place in March.
Don't forget: In our two most recent articles, we provided a comprehensive roundup of highlights from the Neocon contract furnishing show in Chicago: Privacy in the Office and Environment and Health and Well-Being in the Office.
So What Have We Learned from these Key Industry Events During the First Half of 2014?
Let's begin with the business trends first.
Construction Business Confidence is Up in 2014 AIA Report
The AIA issued their annual 2014 AIA Foresight Report during last month's Chicago convention; it's subtitled The Changing Context, Business, and Practice of Architecture 2014. In contrast to the 2013 report, there's a more optimistic view towards the economic prospects of the building industry; more than half of the executives from design firms in North America foresee growth throughout 2014 and into 2015. They also expect mergers and acquisitions to continue on the upswing. Respondents also feel that there is a renewed need for a better work / life balance in the architecture, engineering and construction (AEC) community. (Sound familiar to anyone?)
Achieving a higher level of well-being among employees offers employers a potential competitive advantage for attracting and retaining key talent according to the report. So we might see more offerings along the lines of flexible work locations and hours, healthier work environments, profit sharing plans as well as benefits like support for ongoing education. Interestingly, the AIA states it's aligned itself with the goals of the acting Surgeon General of the United States to promote the role architecture has as a positive influence on public health. The AIA report also notes the rise of public-private partnerships (P3s) as the Federal Government and many states have moved toward 'blended' ownership of what used to be the sole realm of government funded project initiatives. Another key trend in the 2014 report is the new role that crowd-sourcing tools are beginning to play.
These social media mechanisms, such as Kickstarter and IndieGoGo, can not only serve as unconventional sources of funding for new construction projects; these crowd-sourcing tools can also influence design choices in new ways. For example, crowd-sourcing can bring users, clients and designers together in functional teams which exists outside the boundaries of traditional architecture firms and their clients.
Now Let's Move to Design Trends in Furniture and Interior Design in 2014 & Beyond
After experiencing all that was on display in the first half of 2014, there's no question we are experiencing a full-scale Mid-Century Modern revival. Dwell on Design in Los Angeles organized a well-attended (and well-sponsored— by the Cadillac ELR Coupe in this case) field trip where attendees could visit luxury homes inspired by the works of late Mid-Century Rock Star designer icons Neutra and Schindler. Further evidence of the Mid-Century Modern revival is in nearby Palm Springs. This resort town is experiencing a huge reversal in its fortunes after hitting rock bottom during the Great Recession's housing crisis. Its new-found success as a top tourist destination is fueled by Palm Spring's burgeoning reputation as the spiritual home (a desert mecca if your will) of great Mid-Century Modern home design.
Why is Mid-Century Modern the Dominant Design Influence at Present?
A lot of it could just be the natural timing of design revivals which seem to occur on a regular basis as new generations rediscover the recent past. After all there's a new generation of consumers and designers, the Millennials, that are just beginning to make their tastes known in the marketplace.
Key Trends: 5 Design Constraints that Influence Furniture and Interior Design in 2014
We think there may be other reasons for the Mid-Century Modern revival, which are based on design constraint trends. We've identified five constraints.
Constraints, it is often said by experienced designers, actually, serve the purpose of good design. They inspire solutions to solve problems.
Constraint 1: Eco/Sustainable Design for LEED Credits and More
Recycle, re-purpose, reuse is the mantra that's drilled into our brain, and for good reason, because it's good for the environment. Successfully reusing reclaimed materials in the design process can be tricky, however. Not every design direction works when recycling materials is a primary constraint. However, many of the flat, smooth-sided surfaces of Mid-Century Modern designs lend themselves naturally to incorporating and featuring recycled materials. For curved shapes, the pioneering work of Charles and Ray Eames — particularly their innovative designs made of both bent/curved and flat panel plywood furniture — are clearly influencing today's designers. Here are two examples:

MOLO
Their sensational softblock wall partitions and softcloud lighting 'mobiles' and seating systems were a big hit at ICFF and Neocon. The surfaces are made of light cardboard and paper materials. Wood bases are made from sustainably harvested hemlock from the US Pacific Northwest. You can read more about their ICFF Exhibition stand on their MOLO Belgian blog (in English).
If recycled materials are of interest to you, you should read how Formaspace uses recycled materials in its production process and how Formaspace can help you earn LEED credits.
Constraint 2: Flat-pack Design for Reduced Shipping Costs
The ubiquitous emergence of Flat-pack shipping boxes is — according to one wise old designer — the reason why "we can't have nice things" anymore. Do you want a sturdy old-school-style torchiere floor lamp? They're not built like they used to be. Plan on assembling your new lamp by screwing together three separate wobbly sections, all thanks to the economic pressure which dictates all the parts must fit into the smallest volume of flat-packs for lowest-cost shipping and warehousing. New designers seem to take these requirements for disassembling their designs into the smallest possible packaging containers in stride, however. Here too, we see many inspiring designs from the ICFF Show which can ship small but assemble large.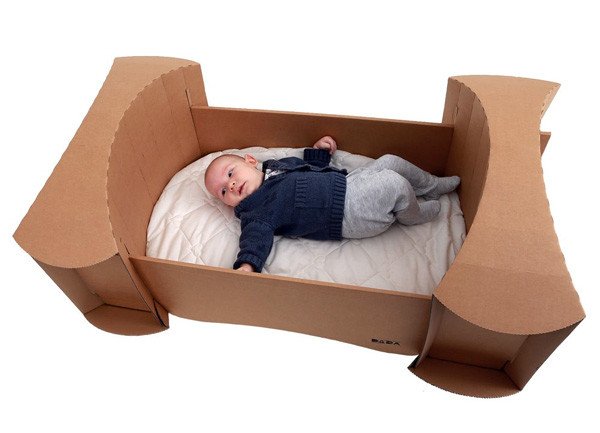 You can purchase the cardboard cradle online at FromAustria.com. As in the case with our first constraint, Mid-Century Modern design motifs (think Hermann Miller Noguchi tables with foldable legs) lend themselves to solutions that work well with the flat-pack design constraint.
Constraint 3: Exotic, Precious Materials are Too Precious to Use Today
The flip side of Eco/Sustainable Design is the diminished use of precious, rare materials and resources. Exotic rain forest woods or mahogany? Time to call US Customs. Exotic animal skins and furs like bearskin rugs? Time to call PETA! Designs that even hint at the appearance of real ivory? Time to call the FBI! Once again, these exotic material constraints seem to validate the relevancy of reviving Mid-Century Modern design principles, which place more value on the genuine, honest use of materials (form follows function) and less on the exuberant display (conspicuous consumption) of exotic materials for their own sake.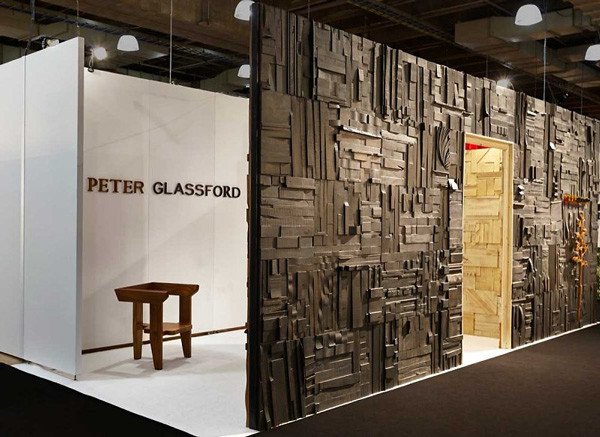 This doesn't mean that this new generation of designers doesn't do the design equivalent of a wink at the tension caused by the disappearance of exotic materials from the design landscape. At both the Milan Design Week and ICFF, there were numerous examples where designers made in effect a design joke about the constraints of precious or exotic materials.
Constraint 4: New Lighting Technology for Energy Conservation
We can't understate the importance of lighting. Architectural lighting is critical for establishing mood, presence and the hierarchical importance of a space. And task lighting is critical for reducing worker fatigue and increasing productivity. Today's new generation of designers have been given a once-in-a-lifetime opportunity to develop new lighting designs which take advantage of energy-saving technologies like LED lighting.
Once again, Mid-Century Modern design language is inspiring many of the choices made by contemporary designers. LED lighting and other energy-saving lighting technologies, like compact fluorescent lamps, seem to lend themselves to repetitive geometric patterns — so at these recent design expositions, we saw a lot of Sputnik-inspired design motifs for chandeliers, hanging pendant lighting and wall sconces.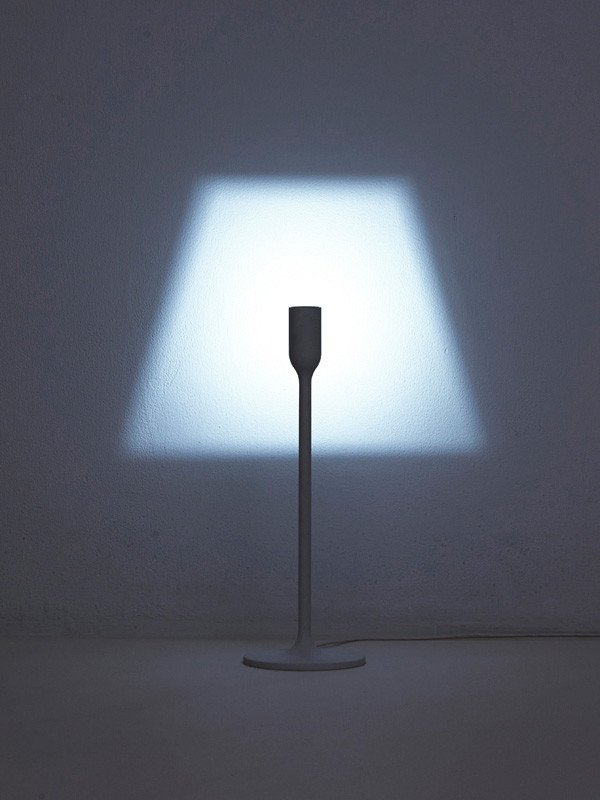 Constraint 5: Need to Integrate Health, Well-Being, and Movement into Designs
Our fifth and final constraint was the main topic of last week's article: Neocon 2014: Designers Offer Different Visions for Health and Well-Being at the Office. A short executive summary: Privacy is necessary for human interaction — without privacy in the workplace, employees become frustrated. When there's no place to hold a private conversation with a colleague or customer, you can't develop the level of trust needed to establish relationships. As shown in the report, many contract furniture designers who seek to solve this problem have turned to Mid-Century Modern design for inspiration.
Next Week in Part 2: Setting Design Trends in 2014 & Beyond
We will continue our survey of design trends making their appearance at the design exhibitions during the first half of 2014 in our article next week. We'll take a closer look at how five constraints are influencing the choices that contemporary furniture and interior designers and architects are making as they establish new design trends. Are you getting a little design inspiration of your own? We hope so. We'd love to hear what you're working on.
As you probably realize by now, Formaspace can build custom furniture designs — from workbench designs to bespoke conference tables to full research laboratories — based on your ideas, sketches or even detailed Autodesk Revit blueprints. Why not give us a call at 800.251.1505 to learn more about what we offer and how we can work together.